Jocks Cocks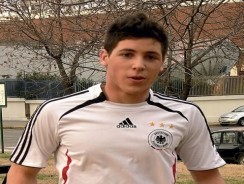 JUB Site Rating:
0 total vote





Jocks Cocks's Billing & Pricing
Jocks Cocks's primary billing processor: Paycom
$29.95 for 30 days unlimited access
$69.95 for 3 months unlimited access
VISIT Jocks Cocks NOW!
Somewhere between a twink and a stud lie the Jocks. And somewhere between the beefy legs of these college dudes and athletes lie some great pieces of meat, dormant to start with but ready to leap into action at the drop of a pair of pants. Jocks Cocks gives you great value for money in more ways than one. It has its own videos and galleries of course, more about them in a minute, but it also lets you in to some great bonus sites and then throws you hour after hour of bonus material. It has recently started upgrading the video content making it faster for you to get your hands on and better to view and, before long, another new site will be added to your list of extras.
But meanwhile: the jocks. Once inside the members' area you will find the videos and galleries arranged in categories. Jocks and Sporty Dudes is only one of them so you have plenty of other kinds of content to view besides what you came in for. But there is enough jocks with the dicks out content to satisfy, so don't worry.
The videos are available to download only which means no instant streaming but there is no DRM protection so you can keep them once you've got them. File sizes vary but expect them to be around the 200MB mark. Each title (or scene from a title as there are full length videos here but chopped into scenes), comes with a description, image and you are told the file size, which makes making your mind up a lot easier. You'll find no fault with the movies or with the guys appearing in them. Jocks galore and all with rock hard dicks, tight, firm asses and plenty of jizz to throw around at the end of each scene. There are varied locations ranging from pools to bars, action scenes, orgy scenes, scenes in locker rooms and gyms, you name it this site has found it for you.
The same goes for the image galleries. Here you'll find some great solo work with hunky jocks in the sea, in their shorts, in action sets and more. Some of these galleries have over 400 images in them, each clicking up to a decent size and coming with easy navigation links to take you through the gallery. Having said that, when you want to get back to the numbered index page you have to back button out or use the main menu to reach page one and then start browsing through again.
Don't forget that Jocks come in all shapes and sizes. Check the category for black videos, interracial or amateur and you'll stumble across more jocks in the collections. This is one huge collection of videos and galleries. By the way - don't expect all exclusive content but do expect good quality and quantity. And as if all that wasn't enough you also have access to five reality bonus sites where you can view hundreds more vids and galleries on 'reality' themes: wild parties, guys' first time with a guy and so on. And once you've finished with that, if you ever do, there are more videos from the partners of the site, feeds, galleries and stories to read in the library. It's a simply designed site that's easy to use and bursting at the seams with content.
Bottom Line:
Yes there are plenty of studs in here, college guys and athletes and all of them totally sexy. The vids are all downloadable and the galleries are plentiful. There are so many extras and bonuses you'll have a hard job trying to pry yourself away from Jocks Cocks.
VISIT Jocks Cocks NOW!
VISIT Jocks Cocks NOW!