Orgy Studs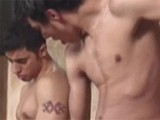 JUB Site Rating:
0 total vote





Orgy Studs's Billing & Pricing
Orgy Studs's primary billing processor: Paycom
$29.95 for 30 days unlimited access
$69.95 for 3 months unlimited access
VISIT Orgy Studs NOW!
Here's one for all you types who can't cram enough hot bodies into your screen in one push. How about a list of orgy scenes that will knock your socks off, fill your monitor with hard, pumping action and leave you weak at the knees? That's what orgy Studs is about, but let's give it a closer examination and see if it lives up to its title.
If you count threesomes as orgies then you're going to love this. A brief look through the titles, descriptions and thumbnails of each movie on the video index pages produces a lot of three-way scenes. A lot of good, well made and horny scenes it must be said. There are some movies featuring more than three guys though, I counted six studs in one particular one. Mind you, I am only going by the summaries and not by watching the entire collection of hot content - that's your job. I downloaded one particular thee-way scene and found it to be one of the sexiest, best made 'two younger guys and an older guy' movies yet to grace my hard on... I mean hard drive. This was a WMV file that played at 1200kbps @ 640 x 360, it was clear, the sound was good and the action simply perfect. This one was made by Hunk Exclusives
(2008)
. Not all videos are exclusive to Orgy Studs (or at least to the company behind the site. There are many other sites from the same company with similar, or the same, content as here but arranged differently), but you are told when a movie is exclusive.
Recently the site has been working to add streaming Flash versions of the movies which otherwise are for download only. There are no restrictions on the downloads so you get to keep what you save but file sizes can be big, 150 to 300 + Mbs, watch out if you're still chugging along on a dial up connection or similar. I had no trouble downloading anything here but a couple of the streams didn't do anything; the Flash player opened and some movies played while at other times a black box stared back at me.
(Maybe these ones were still being worked on.)
Over in the photos area you have more of the same kind of content on neatly laid out index pages where galleries are listed with a description and a thumbnail. Here you can browse through hundreds, if not thousands, of images which open up to a good size and come with navigation links. Again you will find lots of threesomes but also enough real orgy scenes to keep you happy.
And what's going to keep you even happier is the bonus content. The main content is fine, don't get me wrong, but the bonuses include: A collection of streaming video feeds on all manner of subjects, daily videos that change and bring you a new streaming clip in 18 categories every day. There is another collection of short streaming clips (twinks, sucking and cum shots) so you can do your own manual download if you are in a hurry. There are more galleries featuring younger guys and a set of erotic stories to read. After that you have five reality sites to log into and the GayKey network collection of videos and galleries.
Bottom Line:
There may be more threesomes than classic orgy scenes here but they are all fine quality, well made and easy to access. If it's not an orgy of orgies it's certainly an orgy of content with hundreds of movies and thousands of images from loads of sites all for the one sign up fee.
VISIT Orgy Studs NOW!
VISIT Orgy Studs NOW!