Breed Me Raw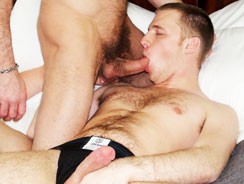 JUB Site Rating:
0 total vote





Breed Me Raw's Billing & Pricing
Breed Me Raw's primary billing processor: Paycom
$29.95 per month recurring
$44.95 for one month non-recurring
$59.95 for three months recurring at $49.95 every three months thereafter
$89.95 for six months non-recurring
VISIT Breed Me Raw NOW!
Tyler Reed, a Canadian top who can't get enough bubble butt, presents Breed Me Raw, an exclusive bareback site that comes with access to three other hot bonus sites. Here you've got hot models, hot sex of course, galleries, a blog and extras all designed to get you off in a jiffy, but not in a condom.
The members' home page shows you the latest videos an updates, there is a simple top menu and the site has a neat design that makes it an easy site to navigate and use. You can check in to the videos straight away, or browse the horny guys in their model index, either way you are in for a bareback treat.
I counted 59 varied models in the index, each one with a good sample photo that, when clicked, led to his stats and intro, and links to his videos and/or galleries. The men are varied here: amateur looking guys, porn-model type guys, younger and older, smoother and hairier, tops and bottoms. Tyler's found us a good mix of bare beef to ping our boners, and each one puts in great performances in whatever he does.
And the variety continues in the 90 videos. These all come with descriptions and very telling sample images. You can stream in two qualities of Flash and there are five ways to download each file too. This means that no one should miss out on the hot action. And that action too is varied. In fact 'variety' could be a good keyword for the site, variety and bareback. I found some toy-play moments, some threesomes and even more guys in one scene at a time and many duo scenes, leather was a theme at times, and there were some neat couplings. If you've got that thing about younger blonde boys being ass-banged by older, darker tops then you're going to have fun here. But you can always use the search engine to find exactly what you like to see, and you can do this by keywords too. Another example of how easy the site is to use and how user-friendly.
You have no quality worries here at Breed Me Raw. The videos are well shot, the lighting and sound is good, the locations are varied and the performances are very natural, so natural that it's almost like being in the room with the models. The galleries contain sharp and focused images and these can be downloaded individually or in full zip file sets. I did have a problem viewing individual images because they didn't sit on the screen, they were half on and half off; it may be something to do with screen settings, but there is a customer service link and FAQ page should you need any advice. But that aside, the quality was maintained throughout my viewing.
You're also able to rate the guys as you go, and their content, so you feel that you can get a little bit more involved that way. Check the blog for more background and information - though I noticed it had not been updated for some time, and don't forget your extras in the form of three bonus sites, Bareback That Hole, Bare Adventures and Sweet and Raw for more exclusive movies, bareback fun, galleries and hot guys. It's a good all round bareback package that you get here, and it is well priced.
Bottom Line:
You've got hot straight looking, and even real straight, guys here who are up for some bareback fun that is well filmed and well presented. You get good quality productions, regular updates, neat extras and a site that is easy to navigate and use. And all that for a decent sign-up fee, means that you are going to get great value and a good old, horny old time from Breed Me Raw.
Safe Sex Notice:
This gallery contains images of unsafe sex practices, also known as barebacking. Engaging in sexual practices without the use of a condom is a risky and unnecessary behavior. There are a lot of studios including the one listed on this page that film bareback or have bareback scenes in their content libraries. The images presented below should only be used for fantasy and you should not deceive yourself into thinking that "everyone is doing it." Further, you should not assume that just because you see photos or film content of barebacking that sexually transmitted diseases have been miraculously cured. HIV and other sexually transmitted diseases are very real and potentially lethal. Please practice safe sex in your own life and educate yourself regarding the dangers of not wearing a condom before having sexual encounters. Visit AMFAR for more information about safer sex.
VISIT Breed Me Raw NOW!
VISIT Breed Me Raw NOW!