Anal Discipline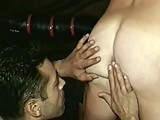 JUB Site Rating:
0 total vote





Anal Discipline's Billing & Pricing
Anal Discipline's primary billing processor: Paycom
$29.95 for 30 days full access
$69.95 for 3 months full access
VISIT Anal Discipline NOW!
Slap that ass! Smack that bottom! You'd think that with a name like Anal Discipline this was going to be a site that's all about disciplining the anal, spanking and so on but it's not. I mean it's not just about that: it's about bringing you a wide variety of anal themed porn in videos and galleries, many of which are exclusive to the network that this site is part of.
So, you have a set of over 150 scenes that run for around 20 minutes each and feature just about everyone from young twinks to older bears. They also feature everything from solo jerk off scenes, Fleshlight and other toy play, hardcore fucking and sucking, orgies and the occasional bit of fisting and spanking. A great mix of everything hot and horny under the sun. And under the sun indeed, with several, outdoor location shoots as well as your standard 'on the bed' indoor scenes. Variety is the spice of the vice here with a little push towards the anal - which sounds horribly medical but it isn't.
Let me give you some examples of what you'll find in the members' area. Here are some scenes taken at random from the image galleries: Straight guy does gay sex because he's broke. Leather guys fucking and fisting in a sling, two twinks fucking bareback, one young guy with his dildo, glory hole and toilet sex, and so the list goes on. You see what I mean about variety, I hope. The individual images will click up to a good size and there are simple navigation buttons to move around the galleries. My only gripe was that some pics had not been turned the right way around, a simple task to do and not doing it suggests someone couldn't be bothered.
As for the variety of the videos, here's another list of sample scenes: Young guys fisting, an orgy in a garage, locker room sex with two jocks, three-ways a plenty, young studs and their coach, solo scenes, and on we go... These videos are simple to access though there is little choice of how. You can click a link to stream a Flash version there and then or you can download a file to your machine and watch it later. A lot of the content is in High Definition format and the site tells us that it's working to upgrade some of the older movies to a bigger and better quality and size. Good news, but watch out for download times as there's no alternative but what you're given.
As for quality: there's nothing to grumble about there. The movies are fine to watch, they stream quickly enough and the sound is clear. They are varied of course, some start with an introduction, scene setting and so on while others, particularly the second and third parts of an on-going story, simply start right bang in there. Performances are good and the exclusive videos are well made and edited. You get value for money with bonus access to six other sites, stories, feeds, clips and more galleries as well as the wealth of content on the site itself.
Bottom Line:
Don't get me wrong, I liked this site because of its variety of content and ease of use, plus all the bonuses and the hot guys appearing on it. Yes there were anal scenes but they were in there in the general mix, yes there were some anal fetish scenes with fisting etc. but the site is really about giving you a bit of everything rather then purely anal worship as the title and banner make it appear. But go for it - it's a great package and there's so much content you'll be in there for days if not weeks.
VISIT Anal Discipline NOW!
VISIT Anal Discipline NOW!