Spunk Worthy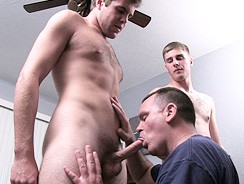 JUB Site Rating:
1 total vote





Spunk Worthy's Billing & Pricing
Spunk Worthy's primary billing processor: Ccbill
$19.95 a month recurring
$24.95 for one month one time charge
$50.98 for three months, one time charge
VISIT Spunk Worthy NOW!
Real amateur guys from Southern California is what Spunk Worthy is all about. Here you get to see guys make their first appearance on camera. Why? Well, some are hoping to become then next big thing in porn, some just want the cash and some want to see if they can actually get it up and jerk it off with other guys in the room and the cameras rolling. It's hunky amateur, boy next door, first time and Joe Public porn, and it's all exclusive.
And it's all hot. How do they find these guys? I must live in the wrong place 'cos I've never seen so many sexy looking hunks and young men all in one place. I mean if this is amateur I wonder what professional looks like? The guys here are horny to a man. Some are young and just turned 18 while others are in the 20's and more assured of themselves; there are straight boys, gay guys, military men and guys who obviously work out, but they all have a sexual quality to them that comes across really well. The filming is natural and laid back in style. This means you get some chat and some 'what do I do now?' moments but you also get a really personal and friendly feel. You feel like you're in the room with these first timers and that you are watching their private moments - which in fact you are.
The quality is good too, even though this comes across as homemade porn, in that it's hand held camera work and there's no big studio behind it or crew getting n the way, it's all professionally put together. The image is clear and sharp and the sound is natural. You can choose from WMV, Quicktime and iPod compatible files to stream/download and the top quality WMV here was at 975 kbps @ 640 x 480, which was fine to view and yet not too big; the buffering was quick and the stream ran well.
Each of the videos will run for around 15 minutes giving you plenty of time to enjoy the solo jerk offs and play along at home. You will find, from time to time, that you get two guys together as a bit of a treat. Sometimes these are simply two straight guys jacking off next to each other and at other times there is one main man being given a helping hand. Either way it's double value and hot to view.
The exclusive scenes come with screen shots in large galleries with individual pics at 541 x 360, and there are another nine separate digital galleries with larger images. Check the bonus scenes for six pieces that don't really fit in anywhere else and you'll get some behind the scenes footage and outtakes. Everything is neatly designed and well laid out and the text, in fact the whole site, is honest and straightforward which makes it a neat place to hang out. Updates are every week so you numbers are going to grow and you're going to find a new, spunky, natural hunk every seven days.
Bottom Line:
Spunk Worthy is worthy of praise as it does its job well. The guys are the best thing here, real amateur men, but the filming quality, page design and photography are all just right as well. This is real 'amateur,' solo jerk off porn, with the occasional duo-jerk, but it's filmed and presented in a professional way. A new guy on the amateur block maybe, but one that's set to be a front runner.
VISIT Spunk Worthy NOW!
VISIT Spunk Worthy NOW!