Stud To Stud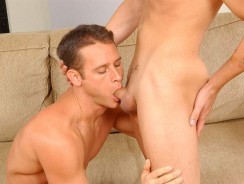 JUB Site Rating:
0 total vote





Stud To Stud's Billing & Pricing
Stud To Stud's primary billing processor: Paycom
Trial Offer
3 Days - Free recurring at $ 39.95

Credit Card
30 Days Recurring - $39.95

Cheque
30 Days Recurring - Not Displayed

Telephone
30 Days Non Recurring - Not Displayed
VISIT Stud To Stud NOW!
It is certainly a busy site when you first get into the place. Lots of interesting little tid bits for one'm curious eye to glance over. The content is a bit difficult to find at first, but it is there. It is done more in a sort of magazine style so it can take a bit to get used to.
The scrolling boxes are well done & you should check them out too. There is some news and of course the update box is a definite must when you check in. After all you don't want to miss out on any of the new stuff do you?
Don't forget the Top Ten either. Some pretty varied and hot stuff listed there that is just a single click away.
Now there are a lot of things here, and yes there are plugins but they are worth spending time on exploring. After all it is all part of the value of the site, so enjoy it.
Navigation
If you click on one of the outside links or such, it pops a new browser window so you don't really ever get lost. Nice actually given the plugins available.
The site itself has a horizontal top navigation bar that is well laid out. Clear to read and follow which is a plus. Other than the busy look of the main page, the rest is pretty standard fare.
Pictures
The photos are a good quality and I'd suggest you view the full sized images with your browser set to full screen mode. It will help you to better enjoy the pictures. There is also standard navigation for full sized image pages. Simply click the rainbow coloured text to either go back, go to the gallery, or move on to the next image.
Top horizontal navigation is also always visible.
Videos
You won't run out of videos to view. Quick selection between the site, all the added videos, makes for some lengthy video watching. After all that is why you came here, so why not kick back and enjoy the flicks?
VISIT Stud To Stud NOW!
VISIT Stud To Stud NOW!