Making Gay Porn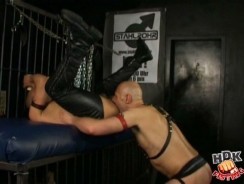 JUB Site Rating:
0 total vote





Making Gay Porn's Billing & Pricing
Making Gay Porn's primary billing processor: In House
$5.95 for a three day trial
$29.95 per month recurring
$69.95 for three months recurring
$139.95 for one year, non-recurring
VISIT Making Gay Porn NOW!
So guys, we've seen the end results, we've seen the porn flicks and the photo galleries and we've seen many a male model expose all and have himself posted on a website. But have we ever seen what goes on behind the scenes? How the movies are made, how things are put together? If you've ever wondered about all that, here is your chance to find out how it works. And the really exciting bit of news is that Making Gay Porn isn't about just any old gay porn. Oh no, it's about the classy productions that come from... wait for it... Hot Desert Knights.
Who? What do you mean who? One of the best porn producers around is who. If you are still not impressed maybe this will do it for you: You can actually access all four of the HDK sites when you sign up for this one. That means that not only will you see how things are put together, but you will also be able to see the exclusive end results. So we are going to find out what goes into a fisting scene
(a fist I imagine)
, and what goes into a hardcore one,
(something very hard hitting the core... Never mind)
.
Start with your home page which is set out with grey on white in a very simple fashion. You get to see the latest updates, to the entire network, and you get to see what's top rated and most viewed etc. You're also told the content count, 126 videos and 44 photo sets when I was there. Videos can be streamed in WMV and Flash, or downloaded in WMV and MP4, with files ranging in size from 150Mbs down to 30Mbs, depending on the file type and length of scene. What's also good is that you get to see the title of each one so you can note it, or add it to your favourites area, and then check out the finished production when it appears on one of the bonus sites.
Photos come in galleries where you can run slideshows and individual pics are at around 650 x 975; they are, as you would expect from this company, good quality and clear. You're also invited to comment and rate content so you get to be interactive here.
As well as the interviews, the backstage filming, and the fact that you actually get to see a scene being made, you also get to read interesting articles here. The professionals tell us their secrets. This is going to interest you out of general curiosity maybe, but it's also going to be invaluable for anyone thinking about making their own porn; whether that's professionally for a site or just for fun. So Making Gay Porn really is all about, well, the making of gay porn.
As if you needed them, there are nine of the better quality feed sites to view by way of a distraction and then there is a link to a flirting, live cam site - yes, it's an up-sell and not for free, but you do get 120 free credits with your Making Gay Porn membership, so that's a nice little touch.
Bottom Line:
It is the fact that you get backstage that makes this site so appealing. And you get told about how it all works, you get to see exclusive scenes before they are released, and you feel really special as you are allowed to get up close and personal with the men. But then you also get bonus site access where you can see those movies in their finished state. It's a great gift from HDK as they do something here that not many studios do. And they do it well.
Safe Sex Notice:
This gallery contains images of unsafe sex practices, also known as barebacking. Engaging in sexual practices without the use of a condom is a risky and unnecessary behavior. There are a lot of studios including the one listed on this page that film bareback or have bareback scenes in their content libraries. The images presented below should only be used for fantasy and you should not deceive yourself into thinking that "everyone is doing it." Further, you should not assume that just because you see photos or film content of barebacking that sexually transmitted diseases have been miraculously cured. HIV and other sexually transmitted diseases are very real and potentially lethal. Please practice safe sex in your own life and educate yourself regarding the dangers of not wearing a condom before having sexual encounters. Visit AMFAR for more information about safer sex.
VISIT Making Gay Porn NOW!
VISIT Making Gay Porn NOW!