Hot Gay Classics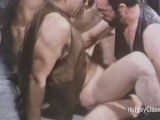 JUB Site Rating:
0 total vote





Hot Gay Classics's Billing & Pricing
Hot Gay Classics's primary billing processor: Ccbill
$24.95 - 30 day recurring membership
$34.95 - 30 day non-recurring membership
$59.95 - 90 day recurring membership
VISIT Hot Gay Classics NOW!
Well, this takes me back! Remember the days of early porn videos, with dodgy music, hairy guys, 'fashionable' hair styles and clothes? Remember the likes of Jack Wrangler and co.? That's what you can expect to find at Hot Gay Classics, an original site that is set to put the past firmly back in the present.
The thing to remember here is that these movies were made in the 1970's, 80's and early 90's, so that's pre and post condom days; you will find bareback sex before it was called bareback sex, and safe sex too. You must also bear in mind that in those days (I sound old!) the quality of filming didn't match up to today's HD and DVD quality, so expect some fuzzy scenes and grainy viewing. But the site has done its best to upgrade these movies and offers you three qualities of viewing. The lowest one is instantly forgettable, but the mid range 512 kbps 360 x 240 gets better, and the highest quality 1.40 mbps @ 720 x 480 will allow you to view the scenes without having to squint too much.
This site won't just appeal to the older generation though, there are scenes that many of us will look at and say 'I remember him!' (from about thirty years ago), but these are classics and the true porn aficionados among us should check them out; out of curiosity if nothing else.
What you have so far are 38 scenes taken from 21 titles and these are arranged over various index pages. There is a very good search page to help you find who and what you want to see. This includes lists of stars, directors and titles, and you get to see the original box covers to. Or you can search by content type and there's a comprehensive list of categories. Each movie has some information about it and you are usually told who the director was and who is staring. Of course you get the titles and the run time too. And then you have the scene arranged in clips to stream or download in your choice of quality, and an accompanying picture gallery too. This is available in a zip file or you can view them via thumbnail pages. These are some very dodgy shots here, grainy, pixilated and dim, but that's because they are genuine classic, old, movies and the screen shots taken from them reflect the fact that these movies have been transferred from... what? Cine 8 and celluloid probably.
It would have been good to have had even more information about the movies, like when they were made, and perhaps some follow ups like a 'where are they now' section - though that may make for depressing reading. For true collectors this kind of background would be a real boon; as would a link to where you could buy the hard copies. Actually there is a store and you might find some of these titles in there if you look hard enough.
I reckon that these videos are mainly from the USA, so how about some old Euro-porn, the likes of Cadinot and co.? Now that really would be worth signing up for.
Bottom Line:
This is a small but growing collection of nostalgic and horny classics. Well, maybe some are not that classic
(what? No Jeff Stryker yet?)
, but they are enjoyable in a grainy way. You'll find the site is very easy to use, weekly updates are promised and there are some breathtaking scenes here that will make you realize just how old you are - if you remember them from your youth, or just how young you are if you find yourself saying 'no way! Look at those flares!'
VISIT Hot Gay Classics NOW!
VISIT Hot Gay Classics NOW!