Squirtz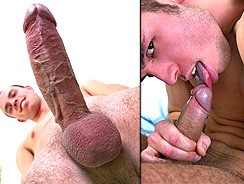 JUB Site Rating:
0 total vote





Squirtz's Billing & Pricing
Squirtz's primary billing processor: Ccbill
$6.95 for a week's trial - renews $19.95 a month, reduces to $15.95 after two months
$19.95 a month -renews and reduces to $15.95 after two months
$24.95 for one month, non-recurring
$49.95 for 90 days, one-time charge
VISIT Squirtz NOW!
I love coming back to Squirtz, it's a bit like coming home. Actually I like coming back here because it's such an honest and simple site - it does exactly what it says it will do and it doesn't let you down. It updates regularly, it contains some of the cutest and most natural boys around and it's really easy to use. And the membership rates are decent too, so you're not getting ripped off or anything.
So, when I popped back in the other day I wasn't surprised to find that there were now 399 solos videos to view. You start off at a simple home page that shows you page one of content - which is actually the most recent. There is a little box to the right to show you who is next up and when, and your menu, such as it is, holds a link to help and support. That's it. No fuss, no messing around and nothing overly flashy or unnecessary. Boys and porn. Porn and boys. Fine by me!
So, who to view first? Fred from October looked very cute and had a smooth face and eyes that dared me to take a peek, so I did. I clicked his soft lips and the page changed. There was a streaming player
(a Quicktime plug-in, so you will need to be set up for that)
, a few stats, a choice of large or small sized video, and then his movie arranged in its component parts.
The videos have an interview to get you up close and personal with the boys, then there was a strip-tease, close ups of his ass and dick, the cum shot finale and a clean up epilogue. There's also a link to the Flash gallery that comes with your chosen boy. The buffering was nice and fast and I was able to start the interview more or less straight away. These chats are relaxed and natural and you get a good feel for your guy from them. Clicking to try out the dick close up section and again the buffering was nice and fast, the sound was natural and the visuals were clear. The chatting was continuing under this with almost muffled comments from the director and Fred's voice being clearer. The camera takes time over what it's filming and the angles change so you miss nothing. Of course I tested Fred's cum shot and noticed that each little section of the movie has a description with it, so you can read the text, if you are quick enough, in the few seconds before you can click the start button. And once the buffer is running you can also jump through the clip - which will really suit impatient people.
Right, Fred has squirted out a nice little load onto his smooth tummy, who's next? Back to Home, browse the 34 pages which act like a model index, being face-pic driven, and let's find... oh, so much variety, so many sexy bois, so much choice...
(a search engine would be handy, so we could filter by age, hair colour or whatever)
. Here we go, Tyler, a bit older than Fred at 20 years. Another great body, shaved cock and smooth nuts, stats and clips, and another solo jerk off. Which is what you must expect from Squirtz - the boys squirt. Like I said, boys and porn, porn and boys, nice and simple.
Bottom Line:
Good quality, great looking youths, well made and well arranged videos, regular updates, easy to view, streaming boys who squirt a load for you when you want them to. A perfect place to check in for a quick jizz-download when you're in the mood - not expensive and nice and straightforward.
VISIT Squirtz NOW!
VISIT Squirtz NOW!