Bears Seduce Twinks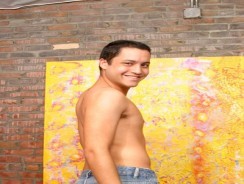 JUB Site Rating:
0 total vote





Bears Seduce Twinks's Billing & Pricing
Bears Seduce Twinks's primary billing processor: In House
Bears Seduce Twinks's optional billing processor(s): Paycom
$1.00 for a three day trial
$6.95 for five day trial
$29.96 for one month, recurring
VISIT Bears Seduce Twinks NOW!


There were, in the exclusive movies, a few very sexy and suitably younger twinky types; and these scenes were, for me, the hottest. I had no problem with the bears and they were all older, hunky, manly, hairy and handsome. The seductions themselves may be a bit fast, but we're not here for a three hour epic after all, and it wasn't long before the hardcore sex started. This was well rewarding, as they might say in the UK, totally horny and load blowing stuff this. I only wish there was more of it. But updates are happening, we're told, and there is certainly plenty of bonus content to view.

When you first click in to the members' area you will be slapped around the eyes by a well stocked and almost crowded home page. Don't panic! Take a moment to check out everything here and you will realize that it's a collection of what's new, what's hot, what's coming up, what's been voted the favorite scene, links to the extras and feeds, a search engine and so on. There's a simpler top menu to take you directly to the vids and pics if that's what you want to do first.

And you'll find the video area easy enough to view. There may only be WMV files here (at the moment at least) but there are good viewing options in other ways. You have high definition versions, you have clips or full length scenes, and there is a choice of three viewing qualities, so that should present no problems. You'll find the filming quality is also good, with close ups and long shots for variety, those all important underneath shots as the bear cock starts to drill the twink ass, and the sound is fine too - keep it up high for more realism. There's no faulting the performances which come across as natural. All in all; good quality bear on twink(ish) porn, that's easy to access and satisfying.

The galleries are of a similarly high standard with images clicking up to 1200 x 800 in size. These galleries contain not only shots from the action but posed shots too, letting you collect some neat portraits and full body shots of each model.

You'll also find some neat interactive options with this and other Rainbow Pimps sites. You can add things to your favorites area, you can rate and leave comments and it's really easy to navigate your way around the whole network. You have access to a good stock of bonus sites on various themes, and there are feed sites to rummage through too. I had no technical problem during my visit and I came away feeling like I'd gotten my money's worth, so that's just right.

Bottom Line:
Bears Seduce Twinks... rather quickly and don't waste time getting down to the hardcore happenings. This is a neat little site for some older on younger porn, it comes from a good team and is part of a big network; one that you, as a member, can fully explore and enjoy when you sign up. The quality is fine with HD versions to be found, the galleries are well stocked and digital, and there are interactive features to keep you happily involved for as long as you stay a member.
VISIT Bears Seduce Twinks NOW!
VISIT Bears Seduce Twinks NOW!