Demon Dudes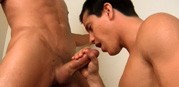 JUB Site Rating:
0 total vote





Demon Dudes's Billing & Pricing
Demon Dudes's primary billing processor: Ccbill
$2.95 for 3 days (one time charge - non-recurring)
$6.00 for 4 days (one time charge - non-recurring )
$12.00   for 30 days   (re-bills at $12.00 per month)
$14.00    for 30 days   (one time charge - non-recurring)
VISIT Demon Dudes NOW!
There is a really simple members' home page at the new and hot looking Demon Dudes: Home, Blog, Bonus are your three links and then there are two pages of sample pics to lead you to the 16 episodes. Most of these were put up when the site started in April
(2009)
but there have been two new and exclusive scenes each month since, so at least the updates appear regular. There are also links at the bottom of the page to contact places, and you can apply to model - so I guess we're looking at amateur sex here.
And what about the guys? What is Demon Dudes all about? Well, at first glance I'd say the guys are all toned and fit, smooth and straight looking. There are solos, glory hole scenes, and first time blow jobs - the use of the plural many be a bit ambitious of me there as it's mainly solos at the moment but give it time. To check whether this was amateur web mastering and porn making, or a classy studio at work I checked some of the movies.
I wasn't told very much about the guys on their movie pages but I had a great choice of viewing. A Flash stream started immediately and then there were options for iPod, WMV low and high, MOV low and high and a DivX version too. So you have no excuse for not being able to view the movies - if you do then contact the help department.
The scenes ran for around 15 minutes and there were some neat solo wank techniques in use and some very fit guys. AJ stripped and showed us his impressive bod, Matt's first blow job was another hot favorite of mine, and Beaux in the bath is a must see, as they say. Actually you can 'meet Beaux' by using the link at the bottom of the pages where he makes himself available for escort services.
That was the main content, all very good and satisfying but still in the early stages of development and no galleries or interactive features that I could find. The blog too is rather new and doesn't have much on it as yet, but it's a good place to keep an eye out for news and updates. And it does have a rather fabby article from JUB, so that alone is worth a look! And the Bonus area gives you a list of some 30 or so good feed sites to view while you wait for more content.
So I have to conclude that Demon Dudes is off to a good start but could do with some bumping up: galleries would be good, more updates too - I know it's expensive and complicated to organize a new porn shoot every week. Some more news on the blog would be an added attraction and more details about the guys and what the site is setting out to do would also help. The nicely deigned tour (and members' area) gives you lots of samples and there is a dark and sexy atmosphere to everything.
Bottom Line:
Great start Beaux! Keep it up and bring us more. Perhaps some little additions as mentioned above would help boost our score here, as would more content. I'm looking forward to coming back in a year or so when I'm pretty sure this site is going to be knocking the socks off others in its genre.
VISIT Demon Dudes NOW!
VISIT Demon Dudes NOW!