Club Inferno Dungeon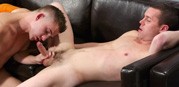 JUB Site Rating:
0 total vote





Club Inferno Dungeon's Billing & Pricing
Club Inferno Dungeon's primary billing processor: In House
$29.95 for one month (recurring)
$44.95 for one month (non-recurring)
$69.95 for three months (recurring)
VISIT Club Inferno Dungeon NOW!


I was just checking out one of the more standard hardcore scenes, Nash Lawler and Philippe Delvaux; well I say standard, the fact that these two guys, one older one looking slightly younger, are both as smooth as silk, toned and good looking, makes it something that's slightly more than standard. The movie streams in Flash (there is no downloading) and the quality if great, even at full screen everything is clear and fine. That includes the sound, and this particular scene has a really noisy cum shot ending. But what about the others, the fetish content?

You're going to find it all here; slings, leather, fisting, dildos, insertions, hot wax, there are actually something like 47 themes to choose from and, with content coming from many Hot House productions you're going to find variety as well as quality. You can check through the content by Video titles or star, category or by month. The Dungeon has been open for about a year now and is reasonably well stocked with its own content, but there is much more to see by going through the titles, with 60 to choose from. Things work very simply here. You select a video from the list and you will see a screenshot taken from it, plus a short description. You can add the scene to a favourites area and then opt to stream it. You do only get one choice of viewing and that's the Flash stream, but the buffering is reasonably fast and the quality is fine. Some scene run for 20 minutes others are shorter, but all feature stunning guys and hardcore sex.

As Hot House release their movies and sell their DVDs you can click into the store to get hard copies to have delivered. As a member you will get discounts here, which slightly takes the pain out of not being able to download the movies in your members' area. You can also access the On Demand area, where you will have to pay more to view, and there is a link to a live cam area where you will need to register. Check the Hot Flash Blog for the latest news and archives dating back to 2006, or simply stay and play in the dungeon.

I guess what you're getting with your membership is the chance to view the scenes that Hot House produce without having to buy the DVDs. You can do that if you want to and you probably will want to as you can't save the scenes that you access. Maybe you're being asked to pay twice for the same thing, but there are discounts at the store, though the monthly membership is higher than the average.

Bottom Line:
There is no faulting the quality of the movies, the themes that are hardcore and fetishistic or the guys who appear in them. Everything technical works well and fast here and the design and navigation is good too. The only drawback about Dungeon Hot House is that you can only stream the movies on line as a member. But you are offered discounts at their store, and new movies/scenes are posted regularly.
VISIT Club Inferno Dungeon NOW!
VISIT Club Inferno Dungeon NOW!