Top Shelf Studs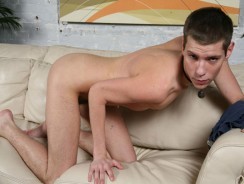 JUB Site Rating:
0 total vote





Top Shelf Studs's Billing & Pricing
Top Shelf Studs's primary billing processor: In House
3 Day Trial - $1.95
7 Day Trial - $9.95
30 Day Full - $39.95
90 Day One Time - $69.95
VISIT Top Shelf Studs NOW!
If you've heard of, or seen, the Male Spectrum network then you'll know a couple of things: they produce good quality movies and photos, their work is exclusive, and they run some very interactive and fun to use sites. Top Shelf Studs is one of them and is one of the more recent to join the list. The theme here is hunky jocks and all American studs who wouldn't look out of place in any top shelf magazine. And here they get down to some hard and horny man on man sex that you won't see anywhere else.
The tour gives you a good idea of what you can expect from your membership as this is a site that keeps its promises. When I checked it out there were only 29 episodes, as the site is still quite new, but they all hit the spot. Your guys here are certainly studs but not the classic, old-fashioned types with jeans and moustaches. These boys are smooth, muscled, good looking and clean cut - and uncut too of course and I don't mean to imply that classic stars of the 70's and 780's were not good looking!
So, we know we've got great looking guys and we know we're going to get good quality as this is a site from Male Spectrum, but how does it work? Well, for viewing options this has to be one of the best set ups. It's a suit all scenario here with Flash and WMV in use; you can stream in any one of five resolutions and you can select clips or the full length movie. You can also download the same in the same choice of five qualities -so that should just about cater for your viewing. However, this may have just been me but: when I streamed in Flash the screen was hanging off the bottom of my screen, so I could only see the top half of it and the same happened when I viewed the galleries that come with each movie as these also opened in Flash. This wasn't too great a problem though as the galleries also come in zip files, you can run them in PicLens and you can also download the movies or stream them in your own WMV player.
As for action: there's plenty. Your hunks and studs appear in duo and threesome scenes that take place in varied locations, including the gym from time to time. The cocks are solid and big, the asses are well battered and the hardcore is more or less non stop. Some scenes have a nice long build up to them where even the acting is good; well it's believable, and these build ups add eroticism to the well put together scenes.
You don't have to worry about quality here, you only need to stay tuned for more updates over time and you will find out about updates by checking around the home page and the other pages listed in the top menu, these pages include your bonus content, which is access to seven reality sites (such as Twink For Cash) and to 17 feed sites. All of these can be rated, you can join in the members' poll and you can even request an episode to be made. All in all, a great set of extras, including discounts to stores etc., and a great load of bonus porn to add to the hot exclusives.
Bottom Line:
We love this network because it delivers on promises and gives great viewing options, but it also gives great sex and well made videos and galleries. There are plenty of extras too. So what you end up with here is a great value for money package and a boner that needs serious attention.
VISIT Top Shelf Studs NOW!
VISIT Top Shelf Studs NOW!