Rookie Guys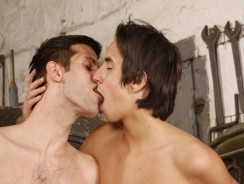 JUB Site Rating:
0 total vote





Rookie Guys's Billing & Pricing
Rookie Guys's primary billing processor: In House
3 Day Trial - $1.95
7 Day Trial - $9.95
30 Day Full - $39.95
90 Day One Time - $69.95
VISIT Rookie Guys NOW!
I just got half way through watching one of the Rookie Guys episodes and was so carried away I nearly forgot I was supposed to be writing about it. "Horny, hairy porn star fucks first time smooth bottom boy in 25 minutes of ball busting action" could well be a headline for what I just saw. And, if that scene is typical of all that the site has on offer you're going to need no other pace to cum but here.
You can tell from the tour that this is a site that knows what it is doing. Members not only get the exclusive movies and regular updates, but also a network of porn to savour too, with Male Spectrum Pass. More about extras later. Let's start with the home page at Rookie Guys. The theme here is that first time guys get to play with others, and with more experienced men too, so there's something here for intergenerational lovers, lovers of all things hot and hard and, well, anyone who likes well made, high quality porn movies. Your home page is filled with the latest news from all around the network, feeds and bonus reality sites, but you'll find your most recent Rookie Guys episode listed first. In this box is the link to all the episodes and I found 21 of them opening in a new window.
Each is sampled with a thumbnail which, when clicked, takes you to your viewing options page nice and smoothly, there is some background info here - though some vids also have chat with the guys before the action starts, and there are various viewing options on the right. You can stream or download in WMV and Flash with various bit rates suitable for dial-uppers to broadband users, with T1 and HD versions also available. Choosing a mid-range DSL, full length download I found a resolution of 854kbps @ 640 x 360 which was fine and clear enough for me. PicLens enabled galleries also come with each scene and individual images open in Flash at 800 x 534. Zip file downloads are available to grab and I only had one problem with viewing the content here: the Flash player for both video and gallery was half on and half off the page. Maybe my screen needed adjusting - if you have the same problem never fear as there is a live chat help desk available and the link is on each main video page.
As well as being able to view the movies in clips or as full length scenes, members are invited to rate each episode, from On Fire! To Ice Cold. But forget about the ice cold one, each of them is on fire from start to finish. The guys are sexy and varied from youthful first timers (who are more natural and better quality that your average twink) to older, hunky guys with piercings, tattoos and fur. These are natural and amateur guys, with some more experienced porn actors in the mix, so you get a neat balance between fresh and knowing, virgin and stud.
Back to your home page - which should still be open in the window behind the one that holds the episodes - and a quick look around at your other goodies. This two-window approach works well as you can be downloading or buffering a scene and viewing other hot porn while you wait. You'll find access to bonus feed sites here with 17 varied third party sites on offer, there are then seven reality themed sites and a market place for interesting up-sell sites. You can rate each one, add it to your favorites area, search the site nice and easily and even request an episode to be made - so good interactive options there then.
Bottom Line:
Rookie Guys may be small on its own content count at the moment but updates are regular and what you get is top class. Loads of extras and bonuses ensure value for money and plenty of customer support is available should you need it. Now let me get back to that hot episode...
VISIT Rookie Guys NOW!
VISIT Rookie Guys NOW!