Butt Machine Boys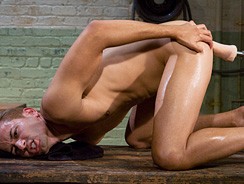 JUB Site Rating:
2 total vote





Butt Machine Boys's Billing & Pricing
Butt Machine Boys's primary billing processor: In House
One Month (recurring) $29.99 USD
Three Months (recurring) $59.99 USD
Six Months (non-recurring) $99.99 USD
One Year (non-recurring) $169.99
VISIT Butt Machine Boys NOW!
Here is another great offering from Kink. This time we've got the standard of sexy, muscled and hunky guys we expect from the company and we've got another hot fetish theme. This time it's machine sex. If you're not sure what that is then take a look at the tour and you'll soon get the idea: hot guys ride man-made machines: large dildos attached to engines that pump and grind. It's very erotic.
What you see on the tour is what you get as a member, but only members get the full treatment. In this case that is 161 exclusive scenes, over 68 hours of video and over 80,000 photos. Browse the pages to see who appears in each movie and then simply click to the streams or downloads. I found WMV and MP4 files in use, clips and full-scene files to collect, hundreds of images in the galleries and everything had quality stamped all over it. Not literally of course, if it did you wouldn't be able to see the hung guys and the relentless pounding of their machines.
Checking out a stream I found a choice of three qualities and I could also open the player in another window, so I could carry on browsing while I viewed. Watch out for the title sequence, it's kind of funny but also suggests that you're in for some pretty heavy action. After that you just sit back and enjoy the sight of handsome guys, hunks with tattoos, younger guys with muscles, older guys with fur, stripping off in garage or workshop or bathroom and feeling themselves up. They've come in here for a jerk off but their eyes are attracted to the machines... and that's when the real fun starts.
My medium quality Flash stream ran nice and smoothly and the quality was perfect - faster connections will handle the larger streams just as well. My guy started off by warming his ass up with a vibrator, a rather small one, but that's ok, he soon moved on to something larger and metallic. Various other implements were used for insertions before he straddled a smooth running machine. This one shot a dildo in and out of his ass, quietly but effectively judging by his moans of pleasure. As it chugged quietly away he stroked on his long, pierced cock, and played with his nuts. Changing positions to be on his back and another machine took over the pumping for him until he shot his load. There then followed a chat, which was good to listen too as the director interviewed him.
That one example should give you an idea of what to expect. It's certainly hot and pretty original too, and definitely exclusive. What's also neat is the variety of guys and machines and what they do with them. And there are regular updates so you're in for new and good content every week.
And while you wait you can get involved with Kink through its forums, the comments facilities you have, and by watching their live shows. These are straight themed and everything you're going to find here has a fetish connection. But your main site, Butt Machine Boys, has got to be seen to be believed. It's both hardcore and erotic, and it's going to bow your mind as well as your load.
Bottom Line:
Another wild and exclusive, sizzling and sexy offering from a top fetish company. A wide variety of guys straddle machines and get fucked by them in this well stocked, regularly updated and top quality fetish site. You're able to get nicely interactive too, and this is one site that you should not, on any account, miss seeing.
VISIT Butt Machine Boys NOW!
VISIT Butt Machine Boys NOW!