Anonymous Masked Men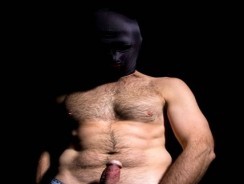 JUB Site Rating:
0 total vote





Anonymous Masked Men's Billing & Pricing
Anonymous Masked Men's primary billing processor: Ccbill
$28:00 (approx £20:00) for 30 days then $24:00 (approx £17:00) recurring every 30 days
$30:00 (approx £22:00) for 30 days (non-recurring)
$66:00 (approx £48:00) for 90 days (non-recurring)
VISIT Anonymous Masked Men NOW!
Anonymous Masked Men is a rare find indeed. It is one of those sites that has a specific niche, knows what it is doing when it comes to making and adding content and knows what we like to see. In this case the theme is masks, and there is a variety on offer. But there are also sexy hunks behind these masks and plenty of variety in the scenes.
The content here dates back to May 2007 and there is a new scene added every week, so already you have over 80 exclusive photo sets and videos to view and a new one is coming to you every seven days. There is simple navigation in use here so it's easy to find your way around, though the addition of some other search options would help. You find each week's contribution by way of a drop down list of dates. Start at the bottom and work up
(oh er!)
or at the top and work down and all you have to do is remember what week you were last looking at, As soon as you select a date the page changes and you're into the photo gallery - with video links off to the right. Everything is nice and dark here, adding an atmosphere to what is otherwise a basic design and layout.
The photography is excellent. Images may only open up to around 400 x 600 in size but they are all well taken and they take you through a natural progression in each set of 100 pics. These sets will show you what the video will contain, though I found some vids that included the cum shots that did not appear in the photo sets, so don't miss anything! Make sure you enjoy the pics
(which are available in zip file downloads)
and the vids, which are available in WMV and MOV formats, and which stream and download. I found plenty of solo jerks here with the guys keeping their masks on, and some action scenes too - again with masks. Everything was as promised and hotter than the tour.
The videos I streamed
(after entering my username and password)
ran for a varying amount of time - some were five minutes while others were longer. I caught some solo jerk scenes that were silent which made them even more horny somehow, and some action scenes too. I played the medium quality version at 1.08bps @ 480 x 360 and this was perfectly watchable. Downloads are available too, and the movie making quality was just fine. You get well treated to some well made and original scenes here and watch out for the slowed-down cum shots, another rare treat to stumble across.
Members can also elect their episodes from the main home page where some horizontal, banner style, images lead you to the episodes. This is another original design touch which reinforces the notion that Anonymous Masked Men is striving to be unique. It manages to be just that with its niche, its quality and the various masks that the hunks and studs wear.
Bottom Line:
Anonymous Masked Men really is something of a rare gem. The theme here is sex in masks and that's exactly and only what you get. There is no padding, no misleading links, no broken tour promises; simply well made, good quality solo and action scenes featuring a variety of guys in a variety of masks. Go for it for the erotic atmosphere alone and you'll soon be lapping up the excellent content.
VISIT Anonymous Masked Men NOW!
VISIT Anonymous Masked Men NOW!