Twinks Of Europe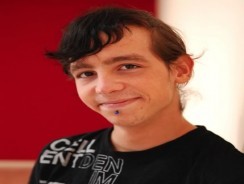 JUB Site Rating:
0 total vote





Twinks Of Europe's Billing & Pricing
Twinks Of Europe's primary billing processor: Ccbill
$24.99 for one month recurring
$49.99 for three months recurring
$79.99 for six months
$99.99 for one year
VISIT Twinks Of Europe NOW!
Europe is a big place and has many countries within it. That means loads of different kind of youthful twinks and it also means loads of them are willing to take their clothes off for the camera and go further in solo and hardcore scenes. That's good news for us, and the better news is that Twinks Of Europe has set about capturing some of the best of the European bunch. Ok, so this may be a new site and still quite basic in certain ways but it is also one that is offering us, and bringing us, European twinks that you won't have seen before.
Having had a quick look around inside the members' area I came away feeling that all that was missing was background. You get the feeling that these guys are out there, travelling around Europe with their cash and their cam, finding good looking boys to appear in their content. If this is the case I'd like to have seen more backgrounds, more travelogue style introductions and images of the boys in their native cities and towns. What we have is a set of indoor and studio driven videos and galleries where, yes the focus is on the twinks and the sex, but where there is that something special lacking. I'm not going to knock the site too much for that as I get the impression it is still early days.
And besides, when you have sexy 18 to 23 year old Euro guys stripping off and playing with their long, luscious cocks, posing in well taken Galleries, fucking like mad in various places and generally getting you hard and horny to the point of explosion - well, you can't complain too much can you?
I found 15 videos when I called in and these were in a choice of QT and WMV as full length streams or downloads only. The run time was around 30 minutes each and the files were reasonably quick to come down the line. I caught one with a very sexy young German guy and his mate doing some decorating. There was a strange soundtrack here, I wasn't sure if it was from behind the camera or a TV playing but there were definitely some odd sounds going on at times. The boys too had that gawky, amateur acting thing about them, but we can overlook that. Once a stream had buffered sufficiently to allow me to stream I found I couldn't jump forward and back, so if you want to cut out the intros, the scene building, you'll be better off downloading.
The video resolution was a bit odd: 128kbps @ 640 x 360 but actually very clear and a good definition, the same at full size as it was in the standard player that opened up. Wide screen too so nothing was missed.
There were also 41 photo sets and these were a mix of action shots from the videos and some studio poses. Some of these sets are erotica - where you don't get to see the twinky dicks - but well taken and collectable. There are slideshows at various speeds, file downloads and members can rate and comment on each set. You can also add things to a favourites area - and those interactive options are available with the videos too. Image sizes were good at 1,100 x 736 and there are some very collectable boys in the model index of 24 twinks so far.
Bottom Line:
Though there are some basic stats in the model index, and you are told what country these boys are from
(Romania, Germany, Italy and Spain were just some in the list)
, some more background and details would really help Twinks Of Europe become truly exciting. Yup there are great twinks, plenty of sex and though there is some 'basic' acting and nervousness, you get some hot, natural scenes. Lets' hope more come along soon and boost our rating.
VISIT Twinks Of Europe NOW!
VISIT Twinks Of Europe NOW!