Maximo Latino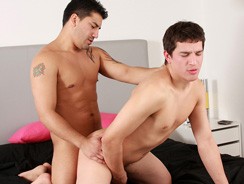 JUB Site Rating:
0 total vote





Maximo Latino's Billing & Pricing
Maximo Latino's primary billing processor: In House
1 Month $29.95
3 Months $59.95
6 Months $89.95
12 Months $119.40
VISIT Maximo Latino NOW!
There's nothing sexier than a smooth Latino stud, unless it's two smooth Latin studs together of course. And that's what Maximo Latino does really well - it puts unbelievably good looking Latino guys together in exclusive hardcore videos and galleries. They've been keeping punters hard and happy since 2002 and they sure know what they're doing.
Maximo Latino has moved with the times too. Whereas, in the early days, you might have found simple galleries and perhaps a couple of versions of the videos, in the more recent content you can find three kinds of media player in use and two qualities of video. You can now add these movies to your hand held devices and take them wherever you go. Which is one way of saying that you are well looked after technically speaking and you don't need to worry that you're not going to be able to view the hot content here. You'll not only find it easy to access but you'll also find it addictive.
So it's a good job that you have over 330 galleries and videos to view already, with a new one coming each week. Finding the Latino boys is easy. Once you log in you have a choice of three places to go: you can go off and join in the fun chat. This opens in a new window and you can chat with whoever is on line as you browse the rest of the site. Or you can click into the bonus area and view any of the 30 or so feed sites. Or you can click into the main Maximo Latino members' area where you will find nothing but sizzling content. Each year is separated into months and each month holds four or five videos or galleries; the home page has a simple set of text links, with a sample of what's coming soon and what's just been added. Simply click a month and start your adventure.
Example: I clicked August 2008 at random and found four solo guys in galleries and movies. These included the drop dead spunky Emanuel from Argentina. There is a short write up about each guy/episode and you find out a little bit about the models that you are going to play along with, which is a nice touch. The galleries will not only give you sensibly sized images to collect but they will giver you plenty of them. And the images aren't just frontal nudity, these galleries contain great portraits, strip shots, close ups on feet and asses and of course the satisfying lengths of uncut cock. The photography is spot on and the quality is fine.
I only intended to stay a little while here but got so hooked on these guys that the time just slipped away. I fell in lust with Rafael from Brazil (a good set of photos, a Quicktime movie, zipped, and a superb cock) and collected quite a few shots of him. It would have been good to have had some kind of search engine so I could see if he appeared anywhere else; but then you're going to want to view everything so if he's there you'll find him again.
Navigating Maximo Latino was simple, the design is very straightforward here and the pages are not over-heavy with images; there are no adverts for up-sells getting in the way, simply basic info and links to content. This may make the site look a bit plain but it makes finding the main attractions, the smooth and hung Latino boys, nice and easy.
Bottom Line:
Maximo Latino builds on its reputation for exclusive and well made videos/galleries featuring perfect specimens of Latino men. You will find regular updates, a good stock of content already, a chat facility and loads of bonus feed sites. But it's the men who will keep you hooked and coming back for more.
VISIT Maximo Latino NOW!
VISIT Maximo Latino NOW!