Miami Boyz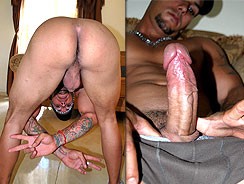 JUB Site Rating:
0 total vote





Miami Boyz's Billing & Pricing
Miami Boyz's primary billing processor: Ccbill
$19.95 per month (recurring every 30 days)
$29.95 for 30 days (nonrecurring)
VISIT Miami Boyz NOW!
Miami Boyz has a simple mission: to bring you hot, new, exciting and hung Latino straight guys, and to bring you a new one each week. It's been doing this for around 10 years now and knows what it's up to. Ever since the team first visited Miami and realized that there is a wealth of South and Central American Hispanic totty there, they have been sending these hung lads to us on a regular basis. Check the neat welcome message and about page when you first sign up to get the full story. There is also news there about the bonus sites you can get into, and help and support if needed.
Great, but what about the boys! Ok, calm down, we'll get there. And we do after that neat welcome message. You'll find a page that lists the recent updates and that has a menu taking you to all the pages of the site. Check the left list for this, scroll down to see the extras such as stories and streams. Or simply choose a page from the numbered list to find your hunky straight dudes. Some of the older pages have smaller thumbnail pics and there are different numbers of guys per page, so counting the exact amount of content here is tricky, but I'd guess at well over 300 photo shoots and over 200 video shoots, possibly even more. It's simply a question of finding a guy you like the look of and then clicking his picture to get to his content. Videos and or galleries are available this way and I stumbled on solo videos that were around 677kbps @ 320 x 240, or 268 x 200 in size, there are WMV and Real Player versions available.
The quality was actually fine, even with those mid-range resolutions. There is a natural feel to the scenes, with interviews and chat sometimes, or the guys simply whacking off, and the camera focusing in on their hot cocks, which are really hung by the way. These are solo scenes and the site is concentrating on that fact so don't expect hardcore. But do expect some totally dreamy guys, all Latinos and loads of dark meat and bushy pubes, low-hanging balls and smooth asses. On each guy's page you'll find other neat things too; slide shows and 'contact sheet' format layouts of the photos, descriptions and information and so on - its basic at times but gives you a little more insight into each guy.
Back on the main page and you can explore the extras. The feed sites, and the 'collections' which are photo series covering more sexy solo boys, and there are six categories here including Speedo Boyz and Hot Papis, images are a good size throughout the site at around 675 x 900, with some larger ones available too. There are two pages of Latino stories with fiction and members' real life encounters, and you can even send in your stories. It's all easy to find, there is a simple design and everything technical worked just fine.
Bottom Line:
Miami Boyz sticks to its niche and that is solo, straight, hung Latino boys posing and jerking off - sometimes just getting interviewed. Take time to check out everything as there is a lot to see here, including the bonus sites. It's not terribly interactive, but it is well designed and it's easy to get around. Miami Boyz is also well stocked with exclusive videos and galleries, and boyz, and there are loads of extras. New content is coming each week, we're told, and you get good value for money.
VISIT Miami Boyz NOW!
VISIT Miami Boyz NOW!