Fisting Underground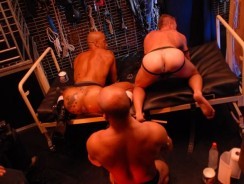 JUB Site Rating:
0 total vote





Fisting Underground's Billing & Pricing
Fisting Underground's primary billing processor: In House
$29.99 for 30 day trial (one-time charge, non-recurring)
$19.99 for monthly recurring.
$64.99 for 3 Months (one-time charge, non-recurring)
VISIT Fisting Underground NOW!
Full screen movies, weekly updates, exclusive content, photos, hard men and hardcore fisting - it's all on offer at Fisting Underground, a place where only the toughest of men go.
With its black and red design and a fair smattering of sexy hunks the basic page layout here brings you atmosphere and a sense of danger; just like a good fetish site should. But it is when you start to access the movies and the galleries that you realise what a great site you've joined. The members' home page will bring you the standard news of updates and what's gong on, and the top menu will link you quickly and easily to where you really want to be: in the movie and gallery areas.
There were 27 movies when I called in
(the site is still relatively new to the scene)
, and these were arranged over nine pages. Although I couldn't click a page number and jump around, I could only use the 'next' link, and there is a list of all titles in the left menu, so you can work through them that way. Titles such as 'Checking into hotel Hole,' 'Bound, abused and fisted' and 'Punch my ass harder.' And those titles should leave you in no doubt as to what to expect. I chose one at random to test out the viewing options and quality. There is a small Flash screen to the right of the screen caps and title, and a full screen option too. This streamed at 600kbps and it withstood the full screen option without losing to much quality. The sample photos here can also be clicked to enlarge and give you a good idea of what takes pace in the movie. And that is, well, fisting in every one. This is a site for real fisting fans and the 'arm in the ass' action is the real deal. This is not one of those rip off sites where they pack their scenes with your standard hardcore and then throw in a couple of fisting shots, or where they call two fingers a fist and hope to get away with it. You will see men push their fists, wrists and arms into a guy's ass, right up to the elbow.
In the galleries area there were 18 photo sets to be viewed with varying amounts of images in each one. These loaded up rather slowly, as if the full image was being loaded behind the thumbnails, but it didn't drag on and I was able to open individual images to 765 x 510 in size. As with the vids you can select an action sequence by its title from the left menu.
As for the guys; there is a model index showing you all 24 hunks who appear at the site so far. And what hunks they are. With very few exceptions these are hard bodied, big dicked guys who work out and work hard; good looks, great cocks and tough asses all the way. You'll find some basic stats about each one and some photos to illustrate him, but no direct links to his appearances. But not to worry, you can search through the content to find your favourite guys and have a hard and happy time doing so. To finish off with you can check on the status of your account and click over to Dark Alley for some DVD purchase opportunities.
Bottom Line:
The content here is great, good quality and stays on the fisting niche. But you can only stream it on line so you're going to need to stay a member. But you're probably going to want to stay a member as you don't come across this kind of well made hardcore very often, so make the most of the sign up offers. We are told that the updates are weekly but there are no dates to back this up, but there are several top quality fisting movies and neat image galleries on the site already.
VISIT Fisting Underground NOW!
VISIT Fisting Underground NOW!