Island Studs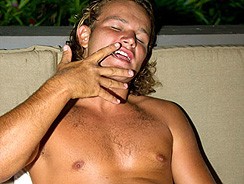 JUB Site Rating:
0 total vote





Island Studs's Billing & Pricing
Island Studs's primary billing processor: Ccbill
$19.95 for 30 days then $22.95 recurring every 30 days
$29.95 for 30 days then $24.95 recurring every 30 days
$39.95 for 30 days (non-recurring)
$69.95 for 90 days then $19.95 recurring every 30 days
$99.95 for 150 days (non-recurring)
VISIT Island Studs NOW!
Have you ever found yourself wishing you could just get away from it all and run away to some tropical island? And your wish might fall into a fantasy of that hot cabana boy fanning you with a palm frond or the tour guide with a few "hidden spots" he'd like to show you. Well if this is the case, or even if it isn't and this has sparked your imagination, then you'll want to pay a visit to Island Studs. Plan and simple, you'll find a collection of hot guys with beautiful bodies and handsome faces, not to mention some pretty nice sized cocks, all of which really live and work in the Caribbean and Pacific islands. There's guys like Randy, who's all natural bushy bush is a nice change from all the shaved studs I'm used to seeing everywhere. And his massive tan line makes his delicious milky white ass really stand out from his nicely tanned torso and calves, especially in the photo where he's down on all fours. And the striking Nate, who's dreadlocks and tattoo'd cock are edgy yet provocative. Each of the guys on the site possess a laid back attitude that only a man living a care-free life on a tropical island could exhibit and I can't help but feel the warm island breeze and feel the ocean salt in the are while I watch these guys who off their amazing bodies.
The site could not possibly be easier, with a photo gallery, short description and video for each model. Trying out a slightly different format than most sites, you can preview several shorter clips in an online stream but to view the full video you are not only allowed and encouraged to download it, it's actually necessary as the full videos are not available in an online stream. You can download the files in either Windows Media or Quicktime, so you are good regardless of being a PC or Mac user. The site appears to be relatively new with several models listed as "coming"
(and I'm sure they are)
.
My only complaint about the site is that I wish there were more. At this time there only seems to be ten models, each with one set of photos and one video, but with the number of models listed as "coming" it appears they are in full swing and will be adding a steady stream of these hot studs from the islands.
Bottom Line:
Island Studs offers a refreshing change from your run of the mill porn sites with exotic locations and relaxed, laid-back models unphased by the craziness of our modern society. The casual attitudes add a touch of realism to the site so you almost feel you could just show up and have a tropical drink with any one of them at a moment's notice. The price is relatively inexpensive and you're going for quality over quantity, so you may not have tons of videos to watch but I'll pretty much be ready to bet you'll come back and watch these videos again and again. And if they make their updates frequent then they'll have a perfect site for your own afternoon getaway.
VISIT Island Studs NOW!
VISIT Island Studs NOW!