Berlin Male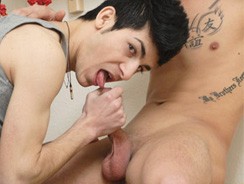 JUB Site Rating:
0 total vote





Berlin Male's Billing & Pricing
Berlin Male's primary billing processor: Ccbill
14 days for $12.95 (recurring)
1 month for $24.95 (recurring)
1 month for $29.95
90 days for $59.95
VISIT Berlin Male NOW!
The first thing to say in praise of Berlin male is that the members' area looks like the tour area - or is the other way around? Well it doesn't matter - they both look as great as each other. You get the feel that this is going to be a friendly and laid back kind of place to hang out. Like its partner sites it has a stylish looking design that's easy on the eye and that proves fun and simple to use.
Like getting to the horny guys, for example. Run your mouse across the top menu and select from the age range you want to view - I chose to view all models and found 179 images leading to individual's and couples' pages. When you've selected the guy or guys you want to view simply click the pic and you come to the page with all the juicy stuff on it. From here you can access the exclusive videos and picture sets that the boy appears in. You also have the guy's information like whether he is straight or not and even what his hobbies are. What's neat about these individual pages too is that you can leave your comments
(in English or German the site is available in both languages)
and you can also read what other members have written about him.
Click to the video page and there is more info. there about how best to view the videos
(Windows Media Player)
and some advice on streaming. If you stream the movie it may not run smoothly first time around - that's while it's buffering and getting ready really and at least the site is honest enough to tell you this. This is a common occurrence with most streaming media but very few webmasters let you in on the secret. Be patient and all good things will come to you. You can also download the video by the way and, although they are restricted by DRM and you need to enter your login details, you can still view them for as long as you are a member. The ones I saw played at 320 x 240 @ 1011 kbps which was a decent enough size. The file weren't too big and didn't take too long to download or stream. Once you have seen a guy in a solo jack off, or couples in action, video you can rate him and cast your vote as to how sexy he is.
The neat design is continued throughout the site and even the image gallery thumbnail pages are swanky. Click one to open the full 800 x 1200 excellent quality picture and from there you can navigate pic by pic, click back to home again or run a slideshow. The image galleries complement the video in quality and presentation and so far I have found nothing to fault Berlin Male at all. Actually I don't think I am going to.
Checking with the rest of the top menu I find that apart from the exclusive videos and image galleries you also have links to support, update news, a page where you can apply to be a model and the DVD store. Back at the home page and you will find a list of bonus content you can also access. For example there are sets of photos of guys who came to model but didn't make it onto the site. There are also full members' areas of other sites to log into too.
Bottom Line:
Sexy, smooth, great to view and I'm not just talking about the boys. The site is a joy to use, the models are simply perfect, everything works well and the quality is great. European porn at its best.
VISIT Berlin Male NOW!
VISIT Berlin Male NOW!