Raw Papi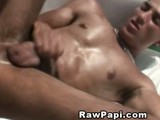 JUB Site Rating:
0 total vote





Raw Papi's Billing & Pricing
Raw Papi's primary billing processor: Paycom
Raw Papi's optional billing processor(s): Ccbill, Netbilling, Wts
$2.95 for a two day trial
$29.95 for one month recurring
VISIT Raw Papi NOW!
It looks to me as if Raw Papi is a site that started out with good intentions in 2008 and then lost its way pretty quickly. I did some checking around and discovered that there have been no updates here for simply ages, and that many other reviews state that, although the content is good, exclusive and on niche, there isn't much of it and you're not likely to get anything more any time soon.
And I have to agree with that general assessment. On the upside the site does contain one of my all time favorite Latino twink bareback scenes. It's on the first page of five that lead you to your 27 movies and galleries. 'Junior and Yuri' sets a smooth, young Latino boy up with a muscled and hunky older guy (no prizes for guessing who is Junior and who is Yuri). The scene takes place outside, starts with some horny oral and soon leads in to some even more horny bareback, with Junior riding up and down on Yuri's solid tool before being turned on his side, and taking it from behind. Nice.
Except... The shot advertising the scene doesn't go with the scene you download. I didn't get Junior and Yuri I got two other guys in a park a pool and a different scene. Ah well.
Viewing this small collection is easy enough, though you may get prompted for an add-on to run the streams. I had no problems running this. You've got streams and downloads in WMV only, in two qualities. The lower one being 942kbps @ 480 x 352 and streaming in reasonably fast. The quality was ok here and the zoom to full size was just about acceptable. The higher quality version is, of course, much better. Downloading happens at around 90kbps and the files are not huge, so there is little waiting time.
The quality of the content at Raw Papi is pretty good and there are no worries on that score. Nor are there any with the theme as the site stays on niche throughout. And that's sexy amateur Latino guys and hardcore, raunchy bareback sex. There's plenty of oral and kissing, jerking and shooting, and cumshots. There are various locations used for the filming, so things don't get repetitive. You've even got some storylines with build-sup and intros to get your juices flowing.
Each video comes with a gallery of photos, with varying amounts of pics per set. These take you through the action, they are a decent size, with options to download them in a larger size, though some of them had not been turned the right way round.
Careful the things you wish for, they say, but I could wish for a lot more form this site. A model index for a start, and some information about who these hot bois are. Some updates of course, and news about what, if anything is happening with the site. And some extras please. You get access to another bareback site - check the page on your way in - but the other things are either feeds or pay to join VOD and cam sites. And how about some interactive options, rates and comments? There's a search engine but it's not going to take you long to view everything that Raw Papi has on offer, and you're going to be left feeling slightly cheated out of an ongoing membership if you pay for one and don't get updates.
Bottom Line:
So, not the biggest or best Latino site in the world, and not the biggest or best bareback one either. The content is good quality in a basic kind of way, and it is exclusive, but you don't get very much of it. And you're not likely to be getting any more either, which really is a shame. You can't get involved, you simply click in, download everything and then move on to another site. Check it for what's there but don't expect miracles.
Safe Sex Notice:
This gallery contains images of unsafe sex practices, also known as barebacking. Engaging in sexual practices without the use of a condom is a risky and unnecessary behavior. There are a lot of studios including the one listed on this page that film bareback or have bareback scenes in their content libraries. The images presented below should only be used for fantasy and you should not deceive yourself into thinking that "everyone is doing it." Further, you should not assume that just because you see photos or film content of barebacking that sexually transmitted diseases have been miraculously cured. HIV and other sexually transmitted diseases are very real and potentially lethal. Please practice safe sex in your own life and educate yourself regarding the dangers of not wearing a condom before having sexual encounters. Visit AMFAR for more information about safer sex.
VISIT Raw Papi NOW!
VISIT Raw Papi NOW!