Randall Rivero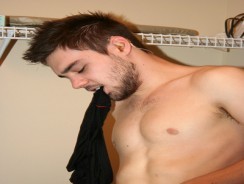 JUB Site Rating:
0 total vote





Randall Rivero's Billing & Pricing
Randall Rivero's primary billing processor: Ccbill
$19.95 for 30 days, recurring
$24.95 for 30 days, non-recurring
$49.95 for 90 days, non-recurring
$99.95 for one year, non-recurring
VISIT Randall Rivero NOW!
Zack Randall started in porn with Lucas Entertainment where he made exclusive appearances in some pretty hot movies. He soon became a members' favorite and has been nominated for Xbiz and GAYVN awards. Here though he turns his hand to production. As for the other half of the new team, Derek Rivero, he started out with Chi Chi LaRue in 2007 and has also been nominated for business awards. So, we have two top twink stars turned producers here and what's interesting is that many of the models look like the two guys behind the camera. Dark, cute, well built and well hung.
So, your homepage starts you off with some news about the latest additions to the site and it looks like the boys have got to grips with a fairly regular update schedule. They've also got their design sorted out as it is very easy to move around Randall/Rivero thanks to the static top menu. The images that show you what's in store are nice and clear, the text is easy to read and accurate, and the pages load up nice and quickly.
(Except perhaps when you are streaming a movie or downloading, I kept getting stuck then, but it may have been me.)
Click to the Episodes and you will currently find 36 hot scenes. Each one comes with a brief outline, then a set of images and your video viewing options. These are full length streams or downloads in iPod compatible versions or as WMVs. The WMV I ran was at 1.54mbps @ 640 x 480 in size. You have solos and action scenes here with each model being as sexy, toned and husky as the next. As I said they do tend to be mainly dark haired boys, though there is a very cute white haired twink in at least one, and you do get to see Zack and Derek in some of the hot movies too - which is an extra bonus.
They are well filmed, the boys know what they are doing thanks to their combined years of experience I guess, the lighting is good, the sound is natural, there are erotic build ups to the hardcore, the models are perfect and there is little, if anything, to fault with these exclusive movies.
The image galleries too are just fine. We're looking at quality here rather than quantity with a reasonable amount of special pics per set that click up to a good size. Some look like they have been cropped, but cropped well, so you get some tall thin ones at 490 x 732 in size, for example. But the quality remains high throughout and you can individually view and save each one.
So, a well put together site that is new and growing and presented to you by pro stars turned producers - so you're getting this content from the inside out, as it were. Anything else? Well, there is a link to a pay per view theatre if you're up for spending more cash; you can apply to be a model and you get the feeling you will be well looked after if you are successful; there is a newsletter to subscribe to for free, to keep fully up to date, and there are some links to explore too.
Bottom Line:
Two sexy twinks are putting out some classy twink sex entrainment here. They come from the biz so they know what they are doing. It's hot and well made and definitely worth a view, a sign up and an ongoing membership.
VISIT Randall Rivero NOW!
VISIT Randall Rivero NOW!