Man Avenue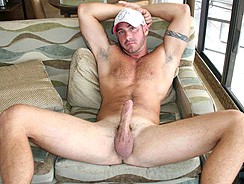 JUB Site Rating:
0 total vote





Man Avenue's Billing & Pricing
Man Avenue's primary billing processor: Ccbill
$24.95 for 30 days, recurring
$29.95 for 30 days, non-recurring
$59.95 for 90 days, non-recurring
VISIT Man Avenue NOW!
I am easily pleased I know, but I do like things that do things - like the top banner at Man Avenue with the scrolling street behind the guys. It's this kind of attention to small details that make a site something special and I am pleased to report that Man Avenue is something very special.
There are many sites out there trying to give you genuine hunks and studs, smooth twinks, and porn stars but this one does is with such style and grace that it is very hard to resist. Of course the most important thing about a porn site is the porn and you find solo porn here, jack off scenes that satisfy. But it is the collection of models that lifts the site up from the realms or ordinary and makes it shine.
The whole idea here is that you are presented with guys who you might pass in the street. I wish someone would tell me where this street is though! These are straight looking, straight acting, hunks, twinks and jocks who have bodies worth showing off. Some look like pro body builders, while others are gym bunnies. But they all exude a steamy sexuality that is a joy to come across.
You can check them individually from the Model Galleries in the side menu where you will find 120 scenes/episodes so far. Some of these are galleries only while others, the main, are galleries and videos. I noticed that some of the older ones were in clips while most were full length streams or downloads in WMV and iPod files. The quality was fine with resolutions around the 915kbps @ 640 x 480 mark, which makes them clear enough to view and quick enough to download without being cumbersome. So although you don't have a huge choice of viewing options the ones you do have are good and manageable.
The guys often start off with the touchy-feely body stroking scene, as opposed to chat or interviews, and it's not long before their manly cock are on show, being stroked and worked to climax. The camera movies in and around them so you feel like you are right up close and the sound is natural too so you hear all the accompanying grunts, gasps and groans as the cum shot approaches. It's good solo jerk off content, with some episodes given an added twist - like Lee Stephens standing on one hand, on a boat, wile he strokes his perfect cock upside down.
And the images are good too. The galleries are not simply huge sets of screen caps, which is so easy to do and such a cop-out, but they are limited numbers of the best digital stills from each show. You open them in a new window each; a slideshow option and a zip file download would be good, but you can save each one as you go.
And a couple of the guys gave a video blog too so you get some extra content with your membership. There were two of these when I was on the street, from Aaron and JRocks - this is a new feature so watch out for more. You can also subscribe to the Man Avenue newsletter so you can keep fully up to date with what will become one of your favorite sites.
Bottom Line:
You have it all here. Good quality productions, great looking hunky guys, galleries, videos and now a couple of blogs. Everything technical works well and smoothly and, at the end of the day, you're only being asked to pay a standard rate for what is top class entertainment.
VISIT Man Avenue NOW!
VISIT Man Avenue NOW!