Bisex Digital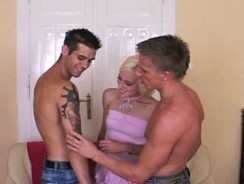 JUB Site Rating:
0 total vote





Bisex Digital's Billing & Pricing
Bisex Digital's primary billing processor: In House
$2.95 for three days trial
$29.95 for one month
$68.95 for three months
VISIT Bisex Digital NOW!
So what's new and hot at Bisex Digital these days? Well, everything really. They give us an update promise of something new every day, so by the time you read this there will be more on the site than I found when I had fun with it. It's all about MMF bisex sex here in DVD quality movies that you can stream or download, and it's all good quality, easy to access and one of those 'must see' sites for all bisex fans. Actually, even if you're not sure about bisex sex then the guys who get it on while the girls watch (and join in) are hot enough to tempt you inside.
You can see what you are getting from the tour as the tour pages are the same as the members' area, so there is nothing hidden here, and you're not going to be in for any nasty surprises. You are, though, going to be in for some pretty hot movies, exclusives, galleries and screen caps, and over 236 movies so far, taken from 63 DVDs. These are movies from US Male, a big player in the porn biz and one that has a good name and reputation, so there should be no worries about quality.
The only problem really is where to start. If you're swayed by sexy guys then you're going to have real problem deciding on who you want to see first. The box shot covers are nice and big and clear and so you get all manner of pics of hot men to drool over. If you like younger and twink-like, then you'll do ok, if you like older and toned, butch and masculine than you're in for a treat too. If you like your girls sexy and leggy, horny and cute, then you're also on to a winner. But if you really don't know what you want to see, but you know you want to see high quality bisex porn, well then, you might need to use the search and sort options.
That's another good thing about Bisex Digital; as well as bringing you top bisexual porn movies, it lets you search through them easily. Apart from the box covers, the list of DVDs, the Updates page and the recommendations on the home page, you've also got a list of categories and series to assist you. Select your category, click 'go' and away you go to a filtered set of content. Choose your DVD and click. Now you're starting to get right in deep with front and back box shots, a trailer for each movie, details about the scenes with runtimes and who is appearing in them, screen caps and a 'Watch DVD' link.
And, once you've clicked the Watch DVD link you have another page with your streaming and download options. Each scene comes in two qualities for both streaming and saving and these WMV files are delivered quickly. You can even check out how long a download with take by using the calculator. If you stream you get a new window so you can have a movie running while you look around for the next one. I didn't see any interactive things to do, like rates and comments, but I found the process of getting to the porn very easy, and the site worked technically very well. This means that you won't have any trouble getting to what you want to see, enjoying the horny hardcore bisex action, and then you can pop back in tomorrow and, if that promise of daily updates is upheld, you will be able to find something new.
Bottom Line:
Getting bigger and better on every visit, Bisex Digital keeps its promise of high quality, bisex action in easy to access files and streams from US Male. Simply sign up, click in and there's your bisexual porn ready for you to watch. Nice.
VISIT Bisex Digital NOW!
VISIT Bisex Digital NOW!