Bareback Place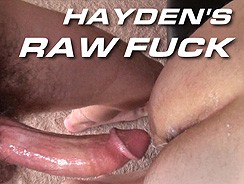 JUB Site Rating:
1 total vote





Bareback Place's Billing & Pricing
Bareback Place's primary billing processor: Ccbill
$26.95 recurring at $24.95 per month
$64.95 for three months recurring at $19.95 every month
$79.95 for three months non-recurring
VISIT Bareback Place NOW!
Aaron and Seth are at it again. They've had a variety of sites on line since 2002 and Bareback Place is their place for your bareback. It's 100% rubber free here with the emphasis being on the jizz play, the raw sex, hardcore, big cocks and bareback fun.
Check in to the members' area to find you've also got access to Guys on Video and Suck Off Place, and you might, at first, wonder where you are. Your home page is not your standard affair, in fact it looks rather clinical and dull to star with - but is isn't. For a start the top banner is filled with hot cocks in open asses, there's a menu to take you to you content and extras and then, which is where it looks unusual, you've got text lists of updates, members' news and a set of polls so you can immediately start to get involved and give your feedback.
But before you do that you're going to want to see the content and this is found under the All Scenes tab in the menu. Now we're getting inot the filed of images with sets of sample pics per video set out across index pages. There are around 25 movies here and each one contains bareback, just as you would hope from a site with this title.
I chose one at random to test out the quality and viewing options for you and found: A big photo from the HD movie showing me the duo involved, and Seth was one of them. There was a long description, a big Flash screen and two choices of WMV download; a screen cap and gallery link completed the simple but effective page. The Flash stream started reasonably quickly - your connection speed is a factor to consider here, if you're slowly connected you will have buffer issues. I had some start and stop problems so I left the player on pause while I opened another window and explored some more, then when the buffering was done the video played perfectly. The quality of resolution was outstanding, full screen was a dream, and the action... everything I'd hoped it would be.
Checking the image quality in the choice of galleries I found screen caps at 960 x 540 in size, perfectly clear and a good resolution. The digital photo sets were bigger and clearer though there were less of them, and they seemed more posed than the captures from the video - so it is worth looking at both galleries with each movie.
I did have one problem with the site. The flash payer took over. Once it was running I couldn't get out of the page, even if I stopped it, even if I clicked the links to home or to the galleries, even when I re-entered the site address into my browser nothing happened, so I had to open a new window/tab and start again - it didn't take long and may only have been a 'me' problem.
You know, the bareback sex element of the site is perfect, there are some great looking models, some outdoor and indoor shoots, Seth and co. get a lot of the action but you might be hankering from something different after a while. So, there was an outtake video and of course the two bonus sites to view once you'd worked you way through the small - but growing and good - amount of raw sex videos.
Bottom Line:
It's simple, to the point, exclusive and hot. Bareback Place fulfills its promises of original guys, hardcore, condom free action and good HD quality. It comes with bonus sites that are also exclusive and it updates. What more could you ask?
Safe Sex Notice:
This gallery contains images of unsafe sex practices, also known as barebacking. Engaging in sexual practices without the use of a condom is a risky and unnecessary behavior. There are a lot of studios including the one listed on this page that film bareback or have bareback scenes in their content libraries. The images presented below should only be used for fantasy and you should not deceive yourself into thinking that "everyone is doing it." Further, you should not assume that just because you see photos or film content of barebacking that sexually transmitted diseases have been miraculously cured. HIV and other sexually transmitted diseases are very real and potentially lethal. Please practice safe sex in your own life and educate yourself regarding the dangers of not wearing a condom before having sexual encounters. Visit AMFAR for more information about safer sex.
VISIT Bareback Place NOW!
VISIT Bareback Place NOW!