Felched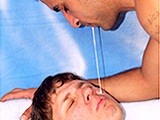 JUB Site Rating:
0 total vote





Felched's Billing & Pricing
Felched's primary billing processor: In House
$2.95 - 2 Day Trial Membership
$34.95 every 30 days
VISIT Felched NOW!


So, you have a couple of guys, sometimes three or more, and there's a pretty hot sex scene to et you hard and horny - you always need that to make up the hours of viewing time in the videos but the action doesn't stop at the cum scene as in so many other movies. It's only after the deposit has been made that the withdrawal can take place and these are the parts of the scenes you will want to concentrate on.

The Felched videos area available to you as streams or downloads and in two bandwidths so you won't have any worries about accessing them. They are clear and crisp - even in the low bandwidth version - and well made. The guys tend towards the younger, more 'average' looking model but are nonetheless horny and perform well. Actually they perform quite naturally which simply adds to your viewing pleasure. Videos run for a good length of time and contain everything you could want: an erotic strip, oral scenes, anal bareback and of course the anticipated felching scene at the end. Jizz squirts from the recently filled ass of the felchee to be eagerly licked up by the... felcher, I guess he'd be called and you are left totally satisfied by the content that you signed up to see.

There were 42 of these episodes when I viewed the site and, with at least two hotties per scene, plenty of different guys to watch. Felched plans two new episodes each month too, so more good content will be added as time goes by. And another good thing to see: they actually ask you for your ideas. Send in a note detailing the kind of felch action you want to see and the chances are they'll put something together for you.

Each of the exclusive videos has a gallery with it and there are hundreds of individual pics in each one. These images are downloadable at a good size, 800 x 1200 for example, and there are simple next and previous buttons to guide you through the quickly loading pages. The images, like the movies, are clear and sharp and a good quality.

But if you are thinking that a collection of felching videos and image galleries is all very well but... but I want more, then don't worry. You can make Felched your bass of operations but also go and view some other feed site content too. There are four separate links over to Maleflixxx.tv in the Bonus Videos area and three good Video On Demand sites to check out too. Felched has also linked in to 11 live chat and cam site and although these 'extras' may not be entirely free they are some of the better examples of alternatives to your main felching action.

Bottom Line:
Felched is a site for anyone and everyone with a felching fetish. The main content stays firmly within its sticky niche and doesn't disappoint. The guys are average in looks but wild in behavior, everything works well technically and around these original movies and galleries is built a collection of alternative feeds and sites.
Safe Sex Notice:
This gallery contains images of unsafe sex practices, also known as barebacking. Engaging in sexual practices without the use of a condom is a risky and unnecessary behavior. There are a lot of studios including the one listed on this page that film bareback or have bareback scenes in their content libraries. The images presented below should only be used for fantasy and you should not deceive yourself into thinking that "everyone is doing it." Further, you should not assume that just because you see photos or film content of barebacking that sexually transmitted diseases have been miraculously cured. HIV and other sexually transmitted diseases are very real and potentially lethal. Please practice safe sex in your own life and educate yourself regarding the dangers of not wearing a condom before having sexual encounters. Visit AMFAR for more information about safer sex.
VISIT Felched NOW!
VISIT Felched NOW!