Blake Mason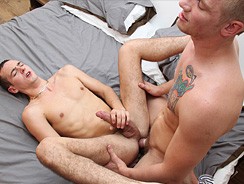 JUB Site Rating:
1 total vote





Blake Mason's Billing & Pricing
Blake Mason's primary billing processor: Ccbill
$24.95 for one month (recurring)
$34.95 for one month (non-recurring)
$69.95 for three months (non-recurring)
VISIT Blake Mason NOW!
Blimey, where do you start? I can be really British here as this is a British site. Blake Mason regularly comes out on top... when it comes to reviews and scores, and there's little wonder as to why. He's got a fantastic collection of genuine amateur British lads in hardcore and solo films, all in a site that's fab to use, comes with extras and stuff and runs perfectly. It's also more or less given away considering the amount of content you get, the fact that it's exclusive and well made, and it updates regularly.
But are us Brits any good at sex? Course we are mate! And we're good at turning out fresh faced and cute teens and twinks
(chickens)
, muscled and horny older guys, jocks and gym-bunnies and real men with big dicks and firm asses. And Blake is very good at filming them. He has 498 exclusive films
(films, note, not movies)
at the moment and doesn't show any signs of slowing down any time soon. Each one is a collectible gem and each one comes with a shed load of viewing options; WMV downloads up to 2Mbs @ 960 x 540, iPod versions, Flash streams in a few resolutions and all these options are listed on each film's viewing page. The Flash stream bounces up onto your screen in a floating box and you can even jump through the action if you are impatient.
On your home page you can click a link to see all the films on one page, which serves as a way to find your best looking guy... sorry, man. Scroll down the long list, getting distracted as you go, to see the smiley solos, the horny humping hardcore and the occasional threesome, and you really won't know where to start first. So much British meet and chicken in one place. Click a sample pic, get to the viewing page, read the well written write up, click to the boys' profiles, or view the set of good quality images to see if this is a scene you want to see.
(Er... yes!)
Images open to around 970 x 550 in size, good and clear, there are slideshows and zip files too. In fact Blake has thought of everything to enhance your viewing pleasure.
Well, almost everything. I saw so many scenes that I wanted to come back to I missed having a favorites area - a storage place for things that caught your eye on your first visit and that you want to put aside for later. But you can rate the content, there is a FAQ page, you can apply to model, there's a search engine that's actually a huge page worthy of the best match-up and dating site, and you can easily click into the blog or the well used forum.
You may be thinking that all that sounds kind of standard and wondering what's so special about Blake Mason. Well, for me it is the boys, the men, and the fact that they are so uniquely British. You've got a great variety of 'types' and ages, and plenty of uncut cock of course, and each guy is as fresh as the next, and yet all are amateur. But you wouldn't believe it from their natural and realistic performances.
Bottom Line:
Probably the best and biggest British porn site around at the moment, Blake Mason not only delivers on his promises, but he does it time after time with incredibly hot porn. Great looking guys are at the center of this paradise of porn and members get really well treated both in terms of quality and value. You are also able to get involved too with the blog and the forum, and navigation is simple. Well done gents, keep up the good work.
VISIT Blake Mason NOW!
VISIT Blake Mason NOW!