Male Digital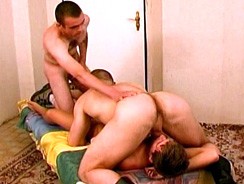 JUB Site Rating:
0 total vote





Male Digital's Billing & Pricing
Male Digital's primary billing processor: In House
$2.95 for 3 Days
$29.95 For 30 Days
VISIT Male Digital NOW!


The tour that you view for free here, with its trailers, news, information and countdown to the next upload, is that same as you find in the members' area. But only once you've signed up will you be able to see all the hot scenes in all their dick throbbing glory. You're kept well informed about updates, it's easy to sort the mass of content into genres or series of movies, and there are large and clear images to show you the covers of each DVD. You can go straight to the All section or you can view the bi-sex ones on their own. (Out of the 1,522 movies there were 62 bi-sex ones.)

Actually, I found 275 DVDs cut into their scenes so that's where the numbers come from. But no mater - that's still plenty of viewing and it's easy to get to see these hot presentations. I checked a bareback title from US Male and found three action scenes. Each one comes with large sample images to show you what's going to happen, there were trailers, WMV streams, downloads, Quicktime versions, VLC Media ones and plenty of instructions to get you started. You have a choice of qualities too, plus screen caps to view, and even a little gizmo that calculates the download time according to your connection. I've not seen such a good set of options in a viewing console for a long time.

While checking out a couple of hot little numbers I fund that the streams ran in a separate window, like a small, floating box, the low quality versions ran really quickly and was only 'low' in terms of being a small screen. The higher/larger one was also pretty quick to run and the screen can go full size without too much loss of resolution. The sound was clear and natural in the scenes I saw too.

And as for the content itself, well, choice is the watchword here. There is a long list of categories from Amateurs to Workers with some other unusual niches too; lots of kink, straight men, twinks of course, Dragon boys, athletes, DILFS and Straight men. Someone has really gone to town to make sure you get variety and to make sure you find exactly what it is you like to see. There are also some well known studios here, such as Eagle Video, and some I'd never heard of, Raptor Entertainment and Toro Studio for example. So, although the content may not be exclusive, the chances are that there are many productions here that you won't have seen before.

Make sure you spend some time at your home page where you will find news about the recent updates and that countdown to the next new video; there is something new here every day, in fact you're promised multiple updates, presumably to go with the multiple orgasms that you will be having when you start to view the good quality scenes.

Bottom Line:
If you're looking around for a video theater where you're going to get something new every day, a good choice of genres, good quality productions and value for money, then Male Digital is for you. This has got to be one of the best suppliers of streaming and downloadable hardcore on line at the moment, and you'd be mad to miss out on it.
VISIT Male Digital NOW!
VISIT Male Digital NOW!