Hdk Central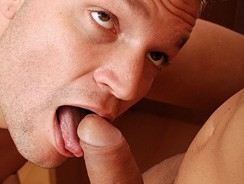 JUB Site Rating:
0 total vote





Hdk Central's Billing & Pricing
Hdk Central's primary billing processor: In House
$1.00 for a one day trial - recurs at $29.95 per month
$6.95 for a six day trial recurring
$29.95 for 30 days recurring
$49.95 for 30 days non-recurring
$69.95 for three months recurring
$139.95 for one year, non-recurring
VISIT Hdk Central NOW!
All bareback, all the time, that's the Hot Desert Knights promise and they keep to it. At HDK Central you enter into the hub of operations, the collection of their exclusive videos and galleries, and from here you can either browse the site to view the hot content, or you can click into any of the four bonus sites. They are all about and from HDK and include the Making Gay Porn site where you get specifically behind the scenes, under the sheets, between the covers, with not only the hunky models but the production team too.
You've got 467 videos and 671 photo sets available to you in total and, with updates happening just about every day - sometimes with two updates a day - those numbers are already out of date. Never mind, they're certainly not going to take any content off the list, so it can only get better.
Technical paragraph alert: here are your numbers
(I did some thorough research and had a great time doing so.)
Movies can be streamed or downloaded, without restrictions, in a variety of resolutions of WMV: 322kbps @ 360 x 288 for slow connections, 400kbps @ 320 x 240 for mid-range ones and 1049kbps @ 640x480 for fast ones. There are also iPod/PSP versions at 500kbps @ 320 x 240. Galleries contain various amounts of photos, around 100 each as a rough average, and these are up at 650 x 867 in size. There are slideshows to run, you can add things to your favorites area, make comments and rate the guys.
Ah yes, the guys! I was wondering when I'd get to that. These men are varied. At one end of the scale you have big, butch, hairy, tattooed, hard-bodied men with beards, and with their asses stretched as wide as a railway tunnel while someone's fist pounds in and out like a steam engine; and at the other end of the scale you have dreamy younger, smooth boys in their twenties. Somewhere in the middle are your average build, good looking, 'men from down the road' style guys. But all of them put in good performances in their solos and hardcore scenes. HDK isn't a company who hires just anyone. The only thing missing was a model index, but if you go to the bonus site HDK Men and click through the solo galleries there you will be able to see all of the models. You can also use the search page and look by keyword. 'Twink' brought up 20 or so guys, and 'hunk' brought over 50.
So, technically you are well looked after, and the men are stunning. What else do you need to know? Well, you may be interested in the nine good quality feed sites that come for free, or in the live cam area where you get 120 credits for free. Or you may simply be interested to now that HDK have been making top quality material for several years, they like to explore fetish content as well as more 'standard' scenes, they only employ top models, it's all bareback, and you, as a member of HDK Central, get to view it all for a very reasonable monthly fee.
(Though the other, longer-term memberships, are even better value for money.)
Bottom Line:
I can never get enough of Hot Desert Knights and their content. They are generous with what they let you see for very little money, they provide you with great quality bareback and fetish porn, they like to use good looking guys who are varied and stunning, and they know how to ruin a website and give away freebies. There's not a lot else for you to do now but hit that join page.
Safe Sex Notice:
This gallery contains images of unsafe sex practices, also known as barebacking. Engaging in sexual practices without the use of a condom is a risky and unnecessary behavior. There are a lot of studios including the one listed on this page that film bareback or have bareback scenes in their content libraries. The images presented below should only be used for fantasy and you should not deceive yourself into thinking that "everyone is doing it." Further, you should not assume that just because you see photos or film content of barebacking that sexually transmitted diseases have been miraculously cured. HIV and other sexually transmitted diseases are very real and potentially lethal. Please practice safe sex in your own life and educate yourself regarding the dangers of not wearing a condom before having sexual encounters. Visit AMFAR for more information about safer sex.
VISIT Hdk Central NOW!
VISIT Hdk Central NOW!