Straight Hell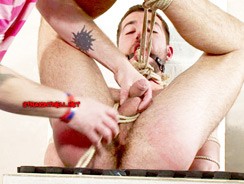 JUB Site Rating:
0 total vote





Straight Hell's Billing & Pricing
Straight Hell's primary billing processor: Verotel
First Charge: $39.95 + $1.95 processing fee
Then $34.95 + $1.95 processing fee p/month (recurring)
VISIT Straight Hell NOW!


I think I can honestly say that Straight Hell is one of the most interesting websites I've seen in a long time. At first glance you might think it's a run of the mill fetish site with guys in leather fucking or fisting and being all pervy. But on closer inspection you'll see that it's a whole lot more. The idea is that the guys who run the site target an unsuspecting straight guy. Through the use of knock out drugs or an offer of a huge amount of money they lure him to a hidden location, usually some sort of S&M dungeon. Then they proceed to torture and humiliate him for their pleasure. Is it real? Is it all fantasy? Who cares? This site is for anyone who loves some good old leather, fetish and kink. It's also for anyone who's every been picked on or fucked over but a straight guy. There's something really hot about watching these guys get put through their paces. Feel free to mentally paste your favorite straight asshole's face right over top of them.

I'll tell ya, doing that with a few of these videos and it's felt like a year of therapy for me. Take that you guy who drove past the bar and yelled names at me and my friends, you look really helpless (and kinda hot) being forced to trot like a pony with a pony tail buttplug in while being whipped with a horse lunge whip. Take that you kid who used to call me sissy in the schoolyard, especially now that you're all grown up and really sexy and tied up like a pig on a spit with clothespins on your nips. Hey, this is kinda fun!

The quality of the videos are amazing. Shot in High Def and with a decent connection load quickly and easily. Most of the videos require WMV to play, although it says in the FAQ that there are some that require Real Media. Most of the videos come with a full gallery of high quality screen grabs so you can save a snapshot of your favorite moment or, if nothing else, preview the video before you watch it. Some of the videos also have professionally shot photos as well. And a great feature, you can download any of the content for later offline viewing.

And what about the guys? Are they the same average looking guys a lot of these "reality" sites tend to dredge up? Hardly. Every single one of these guys are really hot. I forgot to mention that they are all from the UK and since I have a thing for English accents I just love hearing them talk. Especially with the Tops barking orders and the bottoms squealing like the little piggies they've become. And if you are concerned for the well being of the models, there's no need to worry. Many of the videos have follow up interviews with the guys so you can see that they really weren't scarred for life. And for as much as they cry and moan, you may notice that many of them have returned time and again for more than a single shoot.

Navigation is really easy. Scroll down the main page for all the current videos. A little text will tell you what each scene is about and easy links let you go right to the videos or photos. If you are looking for a particular model there's a really handy grid which shows you the face of each model on the site as they normally look but a quick rollover shows you what exquisite tortures await them. By clicking on the model's face you're taken to a page that features all of their videos and photos. Plus, if you click on "See All Guys" you get a full page with a short introduction for each model so you can delve deeper into each of their scenes without having to visit every page. My only real complaint is that while the simplicity of the site makes it way easy to get around, it also makes it hard if you're looking for a particular type of action. Without a search function you pretty much have to read each blurb or watch each video. But as hot as these videos are, that's not necessarily a bad thing.

Bottom Line:
With an imaginative premise, really high quality videos, and hot guys, Straight Hell is the perfect place to lose yourself in a hardcore fantasy world from the comfort of your own home.
VISIT Straight Hell NOW!
VISIT Straight Hell NOW!