Bukbuddies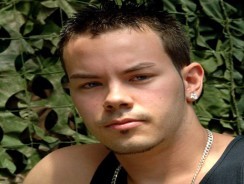 JUB Site Rating:
0 total vote





Bukbuddies's Billing & Pricing
Bukbuddies's primary billing processor: Ccbill
Trial Offer - 7 Days - $ 14.99 recurring
30 Days - $26.99
30 Days Full Membership - $26.95 rebills at $19.95
30 Days Full Membership - $34.95 rebills at $17.95
90 Days - $66.00
30 Days Recurring - $39.99 rebill at $22.99
VISIT Bukbuddies NOW!
Buk Buddies prides itself on having 'the biggest best photos of straight amateur males on the net' and who are we to argue? Well actually, I'm here to check out such claims and let you know if the guys at Buk Buddies are any better or worse than any other guys you see on other 'amateur straight male' websites. I have to say that with over 120 models featured on the tour and a free trailer or two we're off to a good start.
The members' area has the same list with each guy appearing in a decent sized thumbnail so it's going to be easy to find a man who takes your fancy. The rest of the home page consists of a top banner of general links,
(contact, modelling opportunities etc.)
, some free wallpapers for members only, notes about the members only chat area and an advert or two at he bottom. So it looks like, to find our guys and exclusive content, we need to choose a face and click on it.
You know I spent a few minutes checking out this page and that gave the site time to load the roll-over pics. Now when I drag my mouse over a cute face I get treated to a cock shot too. Very nice but it only makes choosing your first Buk Buddy more difficult. Carl was the winner of my 'close your eyes and click' search and up came his page. And although it was a simply
(one might say amateurishly)
designed page it had a lot more information on it than some more professional looking sites I've seen: how many images on how many pages per set, upload date, links to all his nine DVDs and links to where you could buy them plus sample images. Clicking further in - to find a video to view - and up came another page with more detailed info about the movie to come. You need to follow the text here as there are various titles and various pics with the pics leading to pages of pics and the text leading to video downloads. There wasn't a direct streaming options that I could find but the file sizes for the downloads were manageable.
When I ran the WMV file I found it 640 x 480 in size and it played at 1.62 Mbps, which was just fine. The clip I'd chosen ran for only 2 minutes so you'll need to grab a few and stick them together to make a meaningful scene or else click over to the DVD store where you will find the complete movie for a reasonable price.
As I said the pages are simply designed which can make them a bit confusing at first. You have to get used to using the Models link to get back to the main model index as opposed to the home page which I never found again. Once at the model index you can carry on choosing from the array of very hunky and, we assume, straight amateur guys. They are a nice bunch to view with smooth chested, well built all American dudes with nice cocks. Like the rest of the site the models are also straightforward and dare I say it, simple.
Bottom Line:
I'm not sure about the biggest or best collection of guys but the men here are certainly horny enough for me. Once you get used to the design and navigation of the members' pages you'll be fine. There are good sized images, well made videos in short clips and hunky, amateur looking guys-next-door types plus regular updates and a well priced DVD store where you can buy the hard copies of the exclusive videos.
VISIT Bukbuddies NOW!
VISIT Bukbuddies NOW!