Xxx Amateur Hour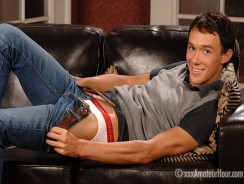 JUB Site Rating:
0 total vote





Xxx Amateur Hour's Billing & Pricing
Xxx Amateur Hour's primary billing processor: Ccbill
$24.95 a Month (30 days) (Rebilled each month)
$34.95 a Month (30 days) (Not rebilled)
VISIT Xxx Amateur Hour NOW!
I love it when a site has an original approach and a design to match. And that was the second most striking thing about 's XXX Amateur Hour.
(The most striking thing was the scenes, but I'll come back to them.)
Check the tour and you will immediately get a feel of old TV shows; 1950's game shows where you gather around the TV set to view the marvel of modern technology together. You half expect I Love Lucy to start playing but... well, no, she'd be very surprised at what she'd find here.
And the design continues inside the members' area which is also good to see. And then, just when you think 'that's a neat looking site and well put together' you open a streaming movie and you're actually watching it on a TV screen, complete with dial. But there is more to this site than just the nifty design. You've got Barrett Long for a start and he's a good looking hunk who knows what sex is all about, and how to make hot movies. He gets his amateur guys to turn up, chats to them and then the fun really starts with horny suck and fuck scenes that run for a good length of time. The quality is good and you have a choice of 300kbps and 800kbps, so that's up to you. But you'll get to see fresh faced, all American hero Barrett in his own movies as well as finding a couple of amateur guys together, and threesomes from time to time.
The movies come with both screen caps and high resolution pictures too. But here's a thing. I was half way through streaming a Barrett movie and watching his thick cock drilling an impossibly tight ass, the sounds of a young twink crying out in painful ecstasy were filling my ears, and I thought I'd check an image to see what they were like. So I left the TV playing and clicked over to a gallery, then an image. And it opened in my TV, thereby knocking Barrett and his boy off the screen just as... Well, that will teach me to be greedy. Watch out for that as you can only sit and stream these movies in the online player, I couldn't actually download any. So you're going to have to watch and wait through each scene, though you can fast forward and jump around, which will suit all other impatient people.
There is a Live Shows link on your menu and when clicked this took me to a page which announced a previous live show that I'd missed, and the next one had not been announced yet, Keep an eye on it so you don't miss Barrett live. He's also got a blog called 'memoirs' which is heavy on text, well written, but not so heavy on pics, and which dates back to February 2008 and is occasionally updated.
You can sort your videos by their names or popularity but that's about the only interactive thing on offer here, apart from the slideshow options in the galleries. But the movies are the important thing, they and Barrett himself are what will keep you hooked and horny.
Bottom Line:
XXX Amateur Hour takes the old TV evening show theme for its presentation and the design sets off the content nicely. There are 43 movies here for you, each with galleries and screen caps, but streaming only. The guys are hot, the main man is also hot and can be found in live shows from time to time. It's worth investing in this site for the horny young amateurs, and to see the things that Barrett (very) Long does with them.
VISIT Xxx Amateur Hour NOW!
VISIT Xxx Amateur Hour NOW!