Mighty Men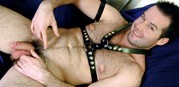 JUB Site Rating:
0 total vote





Mighty Men's Billing & Pricing
Mighty Men's primary billing processor: Ccbill
$24.95 - 30 days recurring $19.95 every 30 days
$34.95 - 30 days Non-Recurring
$59.95 - 180 days Non-Recurring
$72.00 - 365 days Non-Recurring
VISIT Mighty Men NOW!
For bodybuilders, hunks and muscle studs nude, posing and occasionally getting off together you really ought to sample Mighty Men. Ok, so it's not the best looking site, I'd even say the navigation and design can be confusing, but what you do find, when you find it, rivals most other hardcore bodybuilder sites for excitement.
When I was looking around, a new movie had been added. This was porn hunk Matthew Rush appearing in a new solo jerk off scnen. Like most of the other videos here you have a good set of viewing options and you can stream or download the content - watch out for some DRM restrictions though and have your password ready for when you first stream.
But Matthew's recent appearance is only one of over 40 movies and galleries to view. What you see on the home page is basically what you have as a members' area. You can sample all the pages as a visitor but you will need to have signed up to access the streaming and downloading content. You may, like me, look at the home pages and think 'oh dear' and I have to say that I was almost put off by the layout of Mighty Men. Stick with it though to get your just rewards.
What do I mean? Well, it's all laid out in a table with a sample image and text, and links are either behind the pic or in that text. Basic yes and rather amateurish in looks but it all works. And the main page, the Stud Directory, is in sections which makes it easy enough to use. Scroll down, find a scene you want to view, perhaps bodybuilder Sean Steel, some amateur guys auditioning or some duo action in the Buddies First Time section, and then find the link. Some things open in new windows, others open in the window you are in. Sometimes you find galleries only and sometimes there are movies too. The content mainly comes from photographer Jon Royce who has been plying his trade for several years and knows what he is doing. You can expect good quality images and vids and great looking, powerful men; and yes, there is plenty of sex and thick cock on show too.
Further down your main page you will find content from other Jon Royce sites, like Mighty Jocks for example, and these are all listed in the same way. When sampling some of these contributions I was prompted for my username and password again which was a pain and there was always the constant 'Join Now' link screaming at me. Actually, even getting back from a photo set to the main menu I was asked to log in again. These niggling little faults really detract from the main content and that's a shame as the videos and pics, when you get to hem, are totally rewarding and very hot. The choice of quality on most of the vids is good and the images are also well taken and, though not always huge, are good to see.
Bottom Line:
If someone could sort out the technical issues here, if someone could also organize things more coherently and make navigation simple rather than painful, we'd be a lot happier. The guys are fine, just what you want from a bodybuilder site with some nudity and sex thrown in, and the quality is usually pretty good. But finding it, viewing it, and having to login all the time is a mighty pain.
VISIT Mighty Men NOW!
VISIT Mighty Men NOW!