Homo Emo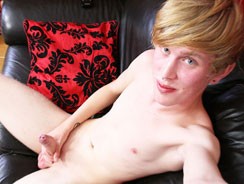 JUB Site Rating:
0 total vote





Homo Emo's Billing & Pricing
Homo Emo's primary billing processor: Ccbill
$24.95 for 30 days recurring
$29.95 for 30 days, one time charge
VISIT Homo Emo NOW!
It's all about gay Emos who've never done porn before at Homo Scene. Here you're offered the chance to get to see some real Emo boyfriends in action, some hot twinks, alternative guys and all exclusive content. There are some trials to take but these are limited and you will only get to see a few scenes. You're actually buying into a network of around 200 scenes, at present, with three sites and another on the way, and so an on-going membership is the way to go, especially as there are weekly updates.
Once inside you find that you are on the home page for the network, and from there you can use the top menu to go to the Sites page and find Homo Scene. There are only 17 episodes here and the most recent was dated July 2011, nearly one year ago, so we're not sure what's happening with updates. The promise of weekly updates is kept, though it is talking about the network and mainly Homo Emo (see our separate reviews).
But what you do here stays on target and is as promised. You have alternative, young, smooth, hung and pierced Emo guys in solo sessions with the occasional action scene added too. Scenes come with a small write up and a good viewing page that's totally interactive. You can download scenes and there are various ways to do it according to what site or episode you are in, but I found WMV downloads, Quicktime ones and Flash streams. You are able to rate the things you see, and there is also a function where you can make up your own clips list, a play list, and then share it with other members. What I also liked was that many scenes started with an interview with the main boy, or boys, so you found out a little bit about him before you got into the strip and hot body action. These were not long or tedious interviews, often only a few seconds and I found some movies ran for short runtimes, five minutes, while others were over 20. It depends on whether it's a quick solo or a longer action scene.
They also come with galleries with various amounts of images each, and I found pics at medium sizes; you can also decide how many thumbnails you want to see on a page, there are automatic slideshows that you can control and zip file downloads. There are ten solo galleries in the network as a whole with lots of digital stills of some of the models, these were 1,000 x 667 in size and were decent quality (as were the videos).
There are 88 boys in the model index and they come with some details and a bit of background plus links to their content. You've also got a members' forum to use if you want to get really involved, and it is these extras that make the network more interactive and fun to use than your average adult sites. You can create your own profile, for example, get to know other members and feel like you belong to something special. Navigation is also easy and you never leave the browser window, so everything new opens under the same menu and banner. I had no trouble here except for the lack of Homo Scene updates.
Bottom Line:
I wondered if perhaps the site started out as part of an ambitious network and then they discovered that' actually, Emo scenes are the same no matter what site you put them under. So, apart from the ones where guys have sent in their own content, you might as well just have the one site. Homo Scene is not it, Homo Emo is the biggest and this is where you get most of the content. But as you can access that when you join this site, that's no problem at all.
VISIT Homo Emo NOW!
VISIT Homo Emo NOW!