Str8 Boyz Seduced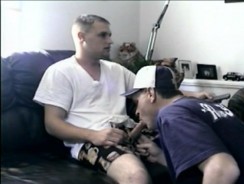 JUB Site Rating:
1 total vote





Str8 Boyz Seduced's Billing & Pricing
Str8 Boyz Seduced's primary billing processor: Paycom
$5.95 for 3 days (initial) then $29.95 for 30 days (recurring)
$29.95 for 30 days (recurring)
$49.95 for 30 days (non-recurring)
$69.95 for 90 days (recurring)
VISIT Str8 Boyz Seduced NOW!
I know what you're thinking: 'Yeah, yeah, we've all seen these so called 'straight boys going gay for pay' sites before and we know they are set-ups, these guys are models, they're being paid and they're not really straight...' Well, you can stop that for a start. This site, Str8Boyz Seduced, is one of the few sites claiming to feature genuine straight guys in gay situations that I trust, and believe. I'm not saying that everyone who appears in the movies is straight, but then those who aren't tell us, so we've got a mix of gay, bi and straight and we know that, so that's fine. But when you have got a straight guy here, and there are loads of them, you known you've got a straight guy and this makes the sex fantastic. Whether it's a simple solo jerk off, or whether he's getting a helping hand or a helping blowjob, it's still great, always horny, perfect...
And another thing: the site updates daily, so plenty more straight boys to drool over on a very frequent basis. And then you've got access to five other bonus sites which, like this one, carry their own exclusive content in various genres. There are galleries and videos and extra videos in the feeds, there are interactive options, and you can download as many of the movies here as you want. You see, this isn't just another straight goes gay for pay site.
And if you don't believe me then sign up for a very reasonable fee, and find 617 original videos to get you started. And boy are there some sexy guys here. There are some who have a slightly softer edge to them, some who are obviously 'hard nuts' and others who look so uncertain about flashing their 'pussy pounders' to the camera that you almost feel sorry for them. But then they whip it out and you can't help but watch how each straight guy jerks his meat in his own way. I am still trying to decide what my favorite kind of scene is here: I think it is the kind of scene where the straight guy chats a bit to cam, then gets his cock hard and starts playing with it and then another guy comes in and blows him. The main man is trying to watch the straight porn that's going on and ignore the fact that another man's lips are around his shaft, he looks down occasionally and makes a kind of grunting noise when he's about to cum. But then he's as Mary as the rest of us when he shoots and you really must have the sound up at this point.
Aside from the sex, your technical aspect is covered here with three ways to view movies: a WMV stream which is a bit too standard and small really, but fine for slower connections; a WMV download which is much better, and an iPod MP4 file too - that should cover your needs. I didn't find any galleries here, we're looking at a video driven site; there are screen caps with each movie but these don't enlarge. But the other sites in your bonus list carry galleries so you've got thousands of photos to collect over there.
Bottom Line:
This must be one of the best, if not the best, site to see genuine straight guys getting blown, jerking off, and sometimes going all the way in gay sex scenes. The men are natural, they chat so you find out about them and so you can make up your own mind about them, and they are presented in easy to access videos. There are daily updates and bonuses galore, so excellent value all round.
VISIT Str8 Boyz Seduced NOW!
VISIT Str8 Boyz Seduced NOW!