Defiant Boyz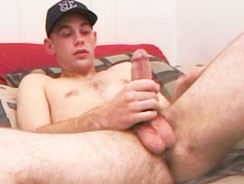 JUB Site Rating:
0 total vote





Defiant Boyz's Billing & Pricing
Defiant Boyz's primary billing processor: Paycom
$29.95 for 30 days recurring
$49.95 for 30 days non-recurring
$69.95 for 90 days recurring
VISIT Defiant Boyz NOW!
Defiant Boyz proudly states that Defiant Productions has been making skater boy, straight-to-gay porn for many years, and that there are over 600 scenes in the members' area. The tour pages also make some other neat offers for you and gives you loads of images to temp you into the site. And it's well worth letting yourself be tempted.
Actually, when I called in to the members' area I found a headline stating that there were 1066 videos here, and I also noticed that the promise of daily updates has been kept to; so there's already a huge stock of things to view and then something new every day. This means you've got loads of choice as to who and what to see first. On that note, a model index would be a great help, though the sample pics in the many index pages show you who is in each scene, and there is usually a description too.
Your videos are arranged in three areas. You've got the actual porn parts in one, main area, where there are 75 pages of ten movies per page to get you started. Here you've got basic viewing options, but decent ones: a WMV stream in mid-quality, an iPod MP4 download, and a good resolution WMV download too. And the subject matter varies which is yet another plus point for the site. Sometimes you're with a solo straight lad as he jerks off, sometimes he's given a helping hand, sometimes there are groups of straight lads on the sofa jerking together, other times it's a full on hardcore scene, and so on. The guys are also varied but stay around the skater boy, punky, street-wise, straight-looking type of guy; all hot and horny to view.
Your second video area contains interviews with some of the cast and there were another 118 movies here. They may not be packed with sex, but it's a good way to get to know the guys and to hear them speak about their first time gay experiences, and what they thought about the movie they just made, or were just about to make. And then you have 101 cumshot movies. These are all in the same formats as the others but here the site concentrates on the wet and sticky finales only.
As with all the videos, even the interviews come with screen caps though these don't enlarge, and they sit on the video's main page as a kind of guide to show you what action is going to happen in the movies. You've got the chance to rate and comment on the content too and you're not going to have any complaints about the quality. It's in the middle to good bracket in terms of the resolutions chosen for you. The guys are natural and the whole thing comes across well: realistic, amateur performances that are downright horny to view.
And in the photos area you're going to find 56 of the hottest movies shown in gallery form; these are screen caps galleries with slideshows and zip downloads. Not as many as the videos in terms of numbers, but still hot to view. Then you've also got the added attraction of five bonus sites that are also exclusive, and several video feed sites to view too.
Bottom Line:
Defiant Boyz is good value for money in terms of content numbers and extras, but the main draw here are the natural, 'from the street' guys who are often straight and who are often trying out gay sex for the first time. This is one site that covers this genre better than most of the others and Defiant Productions sure knows what it is doing, and does it well.
VISIT Defiant Boyz NOW!
VISIT Defiant Boyz NOW!