Daddy Mugs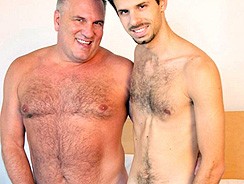 JUB Site Rating:
1 total vote





Daddy Mugs's Billing & Pricing
Daddy Mugs's primary billing processor: Ccbill
$22.95 for 30 days renews at $19.95
$29.95 for 30 days non-recurring
$59.95 for 90 days non-recurring
VISIT Daddy Mugs NOW!
Daddy Mugs is a guy you're either going to love, or be so jealous of you won't want to look at him. But do look at him and look at the hot offerings on his exclusive site. Miss this and you've missed a real treat.
Why be jealous? Because he's gone out and done what we all dream about doing. Setting up your own site and producing great entertainment and probably earning from it too. But more than that, he's now got a legitimate way of finding sweet and sexy younger guys to suck him off and play bottom to his older, beary top. Now, we'd all love that wouldn't we? Well, maybe if you are a sweet young bottom you'd rather be a model for him, but you can do that too as there is a contact area on the site.
So is his site all about him? Well, mainly yes. You will find pics of this hot dad, and videos, and there are scenes where he's washing his car naked, or simply hanging out, or his dick is hanging out with some eager young twink drooling around the end of it. There are some scenes where two of his 'finds' get together and he simply films. But there are many where he gets these hot little guys and has his wicked way with them on camera, and in well made scenes that run for good lengths of time. So expect a lot of Daddy Mugs and expect lost of older-on-younger hardcore, with amateur guys who sometimes appear in shows solo, or together without our main man.
And expect good ways to view these movies to. You have a choice of various file types, some of which stream and download, like the WMV version, and there are also Flash, Quicktime and iPod compatible versions, and now each movie is also shot in HD. You can jump through the streams if you like, the downloads come at a reasonable speed, and the quality of everything is just fine; or better than fine depending on what version you take. For me the hottest scenes happen when you've got a young preppie, twinky, boy-next-door smoothie playing subservient to Daddy's big old bear cock, and there are plenty of them in your list.
Numbers-wise there are currently 156 exclusive scenes and these all come with galleries of digital pics, and screen caps, which open in a neat player. There are 78 models in the model index, including Daddy himself, and they all have good face and/or body shots to get you interested. Click one and you have some basic stats, an intro and links to his movies and galleries. It's not particularly interactive, but it's a nice and simple set up which means it's easy to handle and very easy to get to your content.
Which means the site is very easy to use. You've got the home page with update news and which starts the numbered index pages for the videos, and these come with good sample pics and descriptions. There is a model index so you can browse by cute face, and there is a link to a DVD store. To be a model simply apply via the links at the bottom of the pages and hope that this older stud chooses you. But he only chooses the best, so you'd better fit his bill.
Bottom Line:
Take one hot older, hairier guy and pitch him against smooth young twinks and jocks; take those younger guys and give them solo shoots and action ones together; make it all exclusive and good quality, and update it every week, and there you have Daddy Mugs. It's a great older on younger
(butt not always)
amateur site that lives up to the expectations the tour gives you.
VISIT Daddy Mugs NOW!
VISIT Daddy Mugs NOW!