Fisting Central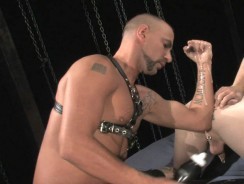 JUB Site Rating:
0 total vote





Updated: 2011-04-05
Primary Categories: Fetish
Secondary Categories: Bareback, Bears, Big Muscles, Bondage, Erotic Massages Handjobs, Gay Porn Stars, Hardcore, High Definition, Humiliation And Torture, Multi Site Networks, Tattoos Inked, Video Downloads
Currently No Galleries
133 Videos
Fisting Central's Billing & Pricing
Fisting Central's primary billing processor: In House
1 Month FREE 69.95 for 3 Months (rebills)
30 Day - Monthly Membership 34.95 (rebills)
6 Months - 149.00 (does not rebill)
VISIT Fisting Central NOW!
Phone rings: 'Larry, it's for you!' Porn star shouts back: 'Can't come to the phone right now, I am up to my elbows in work.' And you then know that this porn star is working for Raging Stallion Studios on a new scene for Fisting Central. Get the picture? Hunky guys with great bodies and assess that can stretch to fit a well toned arm. Yes, it's all about fisting here and if that's not your thing then you're definitely in the wrong place.
Fisting Central has been on the up and up
(and in and in)
since it first hit the web, and it simply gets better and batter. It has its own niche for sure, and you don't need me to tell you what that is, and it consistently turns out great quality fisting movies for its members. There are 46 full length fisting DVDs out now, dating back to 2005 and each with its own number of scenes, and you can browse the box shots via the simple and handy top menu. Or you can look at all 190 scenes from the 'Video Scenes' link in said top menu; and view the 250 photo sets from the same place.
Checking the scenes area to take a look at the upload dates, I found that there are one or two new scenes added every month. They are all sampled with a good sample pic which leaves nothing to the imagination, there is usually an arm in an ass up to the forearm, or a wide toy or simply a gaping hole, stretched sphincter and hunky guy ready to receive something in it. Slings feature a lot as do industrial settings, basements, car workshops and dungeons. Each scene has a very basic write up by way of an intro, and a 'more' link which, when clicked, will open a fuller page where you can view, rate, comment and download the scene.
You've got a Flash stream
(often with five speed choices, and also a WMV stream with the same in most cases)
and a WMV download option per scene with the WMV running at 1.59Mbps @ 850 x 478. You will need to have your username and password to hand as these movies, streams/downloads are protected, and I couldn't copy and paste in my details, so a long username may be a bit of a pain to type accurately. I couldn't jump through the scenes either, so once started they just keep running until you click stop. Allow yourself plenty of time per scene as they run for a good length each.
So, you've got plenty of hardcore fisting scenes with great looking models who clearly know their stuff. You've got good quality, protected movies in a couple of high class formats. And then you have the galleries, and these contain a mix of solo, posed sets plus fisting action. They are good images, though not always huge (600 x 900) and they come with a multi-speed slideshow function. You can, though, save these images individually, and they are highly collectable.
Then you move on to your extras and the value things here are the archive from Men Live and the access you get to the live shows when they happen. You will see what is up next and when as this info is featured at the top of the page. Check through the face pics of the hunks appearing in the archives and you find the quality of models as consistent as it is with the main films. And, as there were 435 recordings to view when I took a look, you are also going to need a long time to take in all this extra content.
Bottom Line:
Fisting Central just keeps getting bigger and better. There are now over 170 top models in the model index, hundreds of scenes, all hardcore and horny, and it's all about fisting and all great quality, exclusive productions. The number one site for fisting? I should say so.
Safe Sex Notice:
This gallery contains images of unsafe sex practices, also known as barebacking. Engaging in sexual practices without the use of a condom is a risky and unnecessary behavior. There are a lot of studios including the one listed on this page that film bareback or have bareback scenes in their content libraries. The images presented below should only be used for fantasy and you should not deceive yourself into thinking that "everyone is doing it." Further, you should not assume that just because you see photos or film content of barebacking that sexually transmitted diseases have been miraculously cured. HIV and other sexually transmitted diseases are very real and potentially lethal. Please practice safe sex in your own life and educate yourself regarding the dangers of not wearing a condom before having sexual encounters. Visit AMFAR for more information about safer sex.
VISIT Fisting Central NOW!
VISIT Fisting Central NOW!