Club Amateur Usa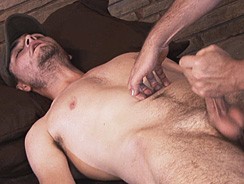 JUB Site Rating:
1 total vote





Club Amateur Usa's Billing & Pricing
Club Amateur Usa's primary billing processor: In House
$9.95 for three days (recurring)
$15 for ten days (recurring)
$19.95 for one month (recurring)
$34.95 for one month (non-recurring)
$69.95 for three months (non-recurring)
VISIT Club Amateur Usa NOW!
The first thing to note is that
Club Amateur USA
is part of the Bad Puppy network of sites. This means that you can expect lots of extra content when you join, though Bad Puppy don't always have the best looking sites within their enclosure. However
Club Amateur USA
, with over five years' of experience is, I am happy to say, one of the better contributions.
It's all about gay, straight and bi boys doing what comes naturally to some: jerking off solo comes naturally to all of them but some of the straights are more reticent to let another guy near their cock. But that's what they do in many of the videos. In many they are passive volunteers who lie there while a gay guy grabs their pussy-plunger and jerks it nice and slow and sensually. There may be some chat going on to help the str8 relax but before long he's dreaming of his girl while the other guys is gently working him towards the inevitable. You'll catch some oral action in there too and this really is classy straight doing gay for the first time stuff.
There were over 280 videos when I was taking a sneak peek and I found a few viewing options with them: MWV versions at 1400kb @ 720 x 480, Mpeg at 352 x 240, Real at 852 x 480 and an iPod version thrown in for good measure. You select your scene from the decent sized thumbnails that show you the main men on the Archive pages. The episode's own page features the same photo but bigger, the guy's stats
(basic)
, links to the Club's blog for more info and updates, and then your viewing options arranged in big and clear lettering. There were dial up and broadband versions in the ones I looked at so you really shouldn't have any trouble viewing the vids.
(Note the message about what's best to do here'; you are advised not to stream due to buffering issues and possible sticking during playback. Download and run when complete.)
There were somewhere in the region of 150 digital stills with each episode too but these could not be opened one at a time; you have to take a zip file download of the whole set if you want to view them. Having said that the thumbnails are a good enough size to show you whether you want to grab the set or simply view the thumbnails and then watch the video.
The content for
Club Amateur USA
is the archive - the list of videos and their galleries. That's really the backbone of the site but there are other things around it that help pad things out. You will find a link to the blog. When I clicked this I got to a page
(in Greek, which took some translating)
that then, when I clicked the orange button, led me to the blogspot page. Casey Black invites you to 'sexplore your curiosity here. The most recent post had been made a month before my visit but previous posts seemed to be more regular. There were photos and some news about the site going back to June 07 so plenty to read and catch up on there. You will also find some links to DVD stores in your members' area and, when back at its home page there is a banner add for Bad Puppy. Click that and head off into the huge collection of other sites and porn that are yours to enjoy when you join
Club Amateur USA
.
Bottom Line:
One of the better offerings from Bad Puppy,
Club Amateur USA
has good quality and real footage of straight and bi guys blowing their loads solo and with gay guys too. It's easy enough to use, there are good viewing options and you can access the entire Bad Puppy vault when you join.
VISIT Club Amateur Usa NOW!
VISIT Club Amateur Usa NOW!