Daddy Action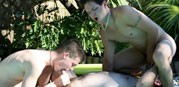 JUB Site Rating:
0 total vote





Daddy Action's Billing & Pricing
Daddy Action's primary billing processor: Ccbill
$24.95 for 30 days (rebills)
$34.95 for 30 days (does not rebill)
$59.95 for 90 days (does not rebill)
$99.95 for 6 months (does not rebill)
VISIT Daddy Action NOW!
Right from the word go on the tour page you know that Daddy Action is going to be a great site. The tour is compelling and well designed, with plenty of information and loads of mature men images to get you hooked. And once you are inside the members' area things just keep getting better. From the exclusive videos to the licensed content you have quality all the way - and the site stays firmly in its niche which is daddy love and daddy admirers.
I found 30 videos during my visit and they all featured an older man. Some were solos with silver haired hunks, others were action scenes with two older guys and some feature intergenerational sex with some cute twinks appearing along side and under their older, heavier dads. Videos stream in three Flash qualities and can also be downloaded for PSPs and phones as MP4 files. The quality of production is high with good performances and good filming and, thanks to the visual quality of the files, you miss nothing. Which means you will get to [link]see older guys stroking their cocks or sharing their experienced asses with each other and with some of the younger guys too. There are some group scenes, outdoor shoots as well as many intimate and horny indoor episodes where the older guy plays top or bottom - these guys are versatile. They also go to show that age is no barrier to good old, hardcore sex.
The same good quality applies in the photo area where there were 40 sets of good sized images, at 800 x 533 pixels they fit nicely on the page. You have good navigation options and a slideshow, or you can download the whole set of, on average, 150 pics in a zip file. Again we are on target here with [link]dads and admirers in hardcore and solo sets.
And then Daddy Action goes one step further with 71 bonus videos from other studios, and in the same niche! You can expect to find older guys, leather men, hunks and some younger jocks getting in on the action too. Similarly the bonus feed sites stay on the niche with 10 video feed sites to view. Quality may vary here but there are plenty more older guys to get your juices flowing.
Members (and non-members) can sign up to a newsletter so you get information about new updates and what's going on at the site. The news is also posted on the members' home page where you can join in a poll, meet the newest dads and admirers, see the latest episodes and the recently added bonus videos. Everything is there in one place and you know that this is a site that is well looked after. The folk who put
Daddy Action
together know their stuff, they know what good quality is and they some how know what you want. Hey, you can even apply to be a model and get in on the action yourself.
Everything on Daddy Action is well designed and logically laid out. Navigation is easy and there is a new piece of content added every week.
This is definitely a site to join if you're into older guys, or intergenerational hardcore sex.
Bottom Line:
Daddy Action
screams quality all the way. It's right on target for what it sets out to do which is to bring you well made and exclusive older guy action, videos and photos, intergenerational sex between older and younger, good looking and cuddly guys and quality gay hardcore entertainment. With the assurance of regular updates and a newsletter where you can follow the progress of what's happening at Daddy Action, you're pretty much guaranteed to not miss a thing.
VISIT Daddy Action NOW!
VISIT Daddy Action NOW!