Twinkscape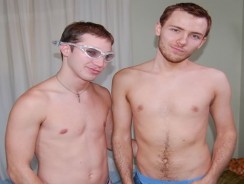 JUB Site Rating:
0 total vote





Twinkscape's Billing & Pricing
Twinkscape's primary billing processor: Ccbill
$24.95 30 days Renews at $19.95 every 30 days
$59.95 90 days Renews at $49.95 subsequent 90 days
$74.95 180 days One time charge
VISIT Twinkscape NOW!
We like it when something new comes along but we absolutely love it when that something new is also creative, classy and hot. Let me introduce you to Twinkscape. This new site started last December and gives us a new slant on twink sex. Here it's one twink filming another in the exclusive episodes that have a definite voyeur feel to them. Twinkscape creates series and each series has 12 episodes and, as of January (09), they are promising to produce a new episode every week. It looks like we're aiming for a kind of sex-soap as three twinks, who are roommates, decide to start up their own site and post their sexual adventures. We're promised parody and fun as well as hardcore sex sessions.
That's the basic set up but what's it really like inside the members area? Actually it's pretty much the same as the tour so before you sign up you can see what you will be able to see once you've joined. Except you won't be able to see all the videos of course. You've got a neatly designed home page here with each of the current episodes featured on it. The various colours in use for the text boxes give the page a bright and fun feel but the horny images and good looking twins make you eager to get to the videos. You'll see that these are available for stream and download in various formats, so that should suit all of us. Sadly I couldn't get the streams to run in either of the offered formats. The download files though did stream when clicked (and they downloaded too) and the quality here was fine: 1.72 Mbs @ 638 x 360 in WMV for example. Slow buffering mind you so keep an eye out for that.
The scenes start with a little dialogue which is ok-ish. It's nothing too complicated and the guys do well with their few lines. You don't have to wait around long for the action to start and the accent of each episode is definitely on the sex.
Each of the videos comes with a set of photos to show you roughly what's in each scene. These aren't huge in size, 720 x 480 and have a screen cap quality about them, and there are only 24 per set. But you can navigate through them easily enough and they do bring you the most important parts of the action that takes pace in the movies.
Things like: solo guy with dildo - Jason is a great looking twink with a big, juicy cock. Or episode one, the one that kick started the site, where the roommates take delivery of their video cam and a three way gang bang ensues. You can tell from those two examples that there is variety here and, even though the core cast is around and filming for much of the time, other guys are involved too. There's a neat model index where you can check out the eight twinks so far appearing in this fantasy-sex-soap-drama-comedy. Here again there is a little variety with the likes of 20 year old Latino Ajay and 19 year old Camden, who is smooth and cute and baby-faced. The model index gives you some stats and an introduction to the lads but doesn't link you to any content. But that's easy to find on the home page and the whole members' area is easy to navigate, well laid out and, apart from that strange thing with streaming the movies, everything technical works well.
Bottom Line:
So what you end up with is a nicely designed site that is new, original and refreshing. Twinkscape makes a great change form the usual twink sites with its fun approach to the scenes. But as well as humour you have hardcore sex and some very, very sexy looking young guys. Here's hoping it goes from strength to strength as it well deserves to.
VISIT Twinkscape NOW!
VISIT Twinkscape NOW!