Mason Wyler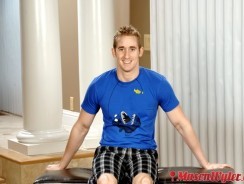 JUB Site Rating:
0 total vote





Mason Wyler's Billing & Pricing
Mason Wyler's primary billing processor: In House
3 day trial membership: $2.95
30 days membership: $29.95
90 days membership: $68.95
VISIT Mason Wyler NOW!
Check out Mason's 'about' page and you'll quickly learn that this 5'10", athletic jock is into porn in a big way. Sex is his big thing and his thing is big but more about that later. The scenes on his site are exclusive so you won't have seen these before though you may have seen Mason himself in some porn shoots - he is experienced and this isn't a case of any old guy putting up dodgy videos for fun. Mason Wyler's personal site is quality viewing.
The transparent tour, with its clean design and easy to use sign up pages, leads you to the members area when you will already feel at home. Here you have a top menu that links you to all the areas of the site that you'll want to explore. The Movies page contains more details, shots and links to the 13 'clips' so far on the site. Don't panic at the use of the word clip there - that's what they are listed as, but I would call them scenes. They each run for around 20 minutes, you can download them or stream them in Flash. Simply make your selection and click the link to reach the page of viewing options. It's all very simple to use and links are well marked. The viewing console also features a download time calculator which is pretty neat. From here too you can click to the screen shot galleries which are actually really good. The images are 720 x 540 in size and yet not too pixelated, there are hundreds of images in each one and they open nice and quickly in Flash.
If you want larger images then check the Pictures area for 13 sets. Each one has its own amount of photos laid out on thumbnail pages; those thumbnails then lead to Flash images at 950 x 713 - good quality, sharp and collectible. And there are some great looking guys in here. In the photos and the videos you will find toned and fit jocks, a couple of older studs but mainly guys in their early twenties. But definitely no screaming twinks. This is hard and raw man-sex and downright horny it is too.
As you browse the models in the photos and videos you might find yourself saying 'ah, now I recognize him... ' And you may well recognize the liked of Tommy D and Cody Cummings. Over on the Bonus page you'll find links to their personal sites, and the Next Door series. OK, so a link to another site isn't exactly a bonus in my book but if you've not come across the likes of Tommy, Cody and the super-sexy studs in the Next Door series then you may want to take a look. You'll be cumming across them in no time.
As for the rest of the things to see and do on Mason Wyler's own pages: You can search the site by actor's name from a drop down list, there is a link to a support area if you have any problem, a links list and a link to a store. Looking at the update dates for content, as listed on the home page, it looks like updates are regular and often. Mind you, the site is new so the stock of content that came in December will be the first push, after than you'll have to wait and see how often more is added. And if you really want to keep right up to date and learn more about Wyler (and you will) then he has a blog that you can click into. It's just started and doesn't have much on it yet but I'm sure this guy won't disappoint you.
Bottom Line:
Mason is off to a good start with his well made, horny, good quality and exclusive content so far. Let's hope there is more and lots of it soon - not because there isn't enough already but because you are going to be addicted to Mason Wyler and his jock buddies before long.
VISIT Mason Wyler NOW!
VISIT Mason Wyler NOW!