Sd Boy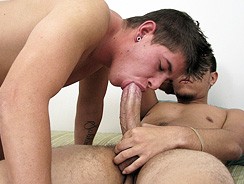 JUB Site Rating:
1 total vote





Sd Boy's Billing & Pricing
Sd Boy's primary billing processor: Paycom
$29.95 for 30 days recurring
$49.95 for 30 days non-recurring
$69.95 for 90 days recurring
VISIT Sd Boy NOW!
The thing that SD Boys does really well is to find genuine, amateur guys and put them into well made movies. It's as simple as that but there is also a twist to it. The guys are often straight, certainly straight acting, and from the military. So what you have are exclusive episodes that are easy to view featuring very hot and sexy, real guys, who you won't find anywhere else. With its good stock of videos and its very regular updates you are getting a good value for money site here, and it's one that makes you want to come back for more time after time.
At first the members' home page looks like its going to be all text as that's the first thing you see. But look closely and you will realise this is the list of recent updates stretching back over the previous month. There is something new here every two or three days. Scroll down to see images from some of these updates and click one to get to a well designed page of viewing options. Or you can use the Videos tab in the static top menu to find the full 15 plus pages of episodes. Each one of these has an image to show you who is in the movie and then a neatly written text description. You will want to check these out to get a real feel for the kinds of guys who appear here.
Maybe you are thinking that this all sounds very familiar? That many sites present their content in this way? Well, you would be right - it is a standard kind of set up with thumbnails and descriptions but it's a good one, and it makes finding what you want to see really easy. When you come to a video page you'll find the same details but then the viewing options and beneath these the set of screen caps that all videos come with. These screen caps are 640 x 480 in size and there are around 100 per set. (Don't panic there are other photos to view too.) Videos can be streamed in WMV or Flash where the screen is 360 x 288 and the bit rate 431kbps - that may not sound huge but I checked it at full screen and it was fine. And because it's not huge the buffering was nice and quick and there was no 'start and stop' going on. Downloaded files are DRM free and you have a choice of high bandwidth or iPod compatible one to take. A good set of viewing choices there that should suit everyone.
But it is the models who are the thing; these guys are varied and hot. You have some in army or navy gear, others who are twinky and smooth, some muscled guys, Latinos, men with tattoos, you have solo jerk off scenes and action ones with a sexy duo going all the way, and plenty of cumshots including facials.
I mentioned photos and you'll come across an area called Production Photos. There are over 40 sets of stills from some of the released DVDs here (some better than others) and they come with the standard gallery viewing options, good navigation and slideshows. You can also rate the sets and offer some feedback, or add them to your favourites area. SD Boys has a few interactive options like this. If and when you ever get to the end of the current content list and are waiting for a new update you can view nine video feeds sites. These contain hunks, fetish content studs and twinks so there is plenty of variety. The Live Cams link will take you to Flirt4Free but you are given 120 credits with your membership - make use of them. Most sites with 'live cams' don't give you anything like this.
Bottom Line:
Great looking and original guys, good quality movies, plenty of screen caps and a few bonuses. The best things here are the men and the exclusive updates which happen every couple of days.
Safe Sex Notice:
This gallery contains images of unsafe sex practices, also known as barebacking. Engaging in sexual practices without the use of a condom is a risky and unnecessary behavior. There are a lot of studios including the one listed on this page that film bareback or have bareback scenes in their content libraries. The images presented below should only be used for fantasy and you should not deceive yourself into thinking that "everyone is doing it." Further, you should not assume that just because you see photos or film content of barebacking that sexually transmitted diseases have been miraculously cured. HIV and other sexually transmitted diseases are very real and potentially lethal. Please practice safe sex in your own life and educate yourself regarding the dangers of not wearing a condom before having sexual encounters. Visit AMFAR for more information about safer sex.
VISIT Sd Boy NOW!
VISIT Sd Boy NOW!