Satyr Films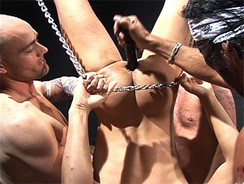 JUB Site Rating:
0 total vote





Satyr Films's Billing & Pricing
Satyr Films's primary billing processor: Netbilling
$24.95 for 30 days recurring
$39.95 for 30 days non-recurring
$69.95 for 90 days non-recurring
VISIT Satyr Films NOW!


You'll see the dictionary definition of 'Satyr' on the tour and in the members' area. A Satyr is a lustful, mythical creature with a lust for sex. The Satyrs at the site kind of fit into that bracket and then go a bit further. The guys are hunky, powerful and good looking; there are many tattoos and piercings on show and plenty of hardcore, throat and anal bareback sex. This is hard hitting stuff with lots of facials, snowballs, creampies, jizz dribbling and the like, and don't come here expecting young twinks or soft-core erotica. Hard and extreme are your keywords.

Actually you can search the content by keyword and that search engine is about the only extra feature of the site. It's simple and to the point, which is good, but you won't be getting anything other than the movies and their small screen-cap galleries for your $24.95 a month. But don't despair as you have a new movie uploaded every four says or so, they are a good length, they are well made, good quality and totally exclusive.

And as for what takes place: well, there is variety although the main thrust of the content is the cock thrusting that takes place. There are scenarios and vague story lines but these don't drag on for ever; you don't have to wait long before the action starts. And when it does there are duos and threesomes, forced sex, very deep throat action and that bareback anal slamming too. Just what the tour promises is just what you get.

As the movies are also for sale in the store you can only stream them online from the members' area, so there is no downloading to be had. The streaming is in one resolution in Flash so click, sit and wait a few moments and you are away. The visuals are fine even at full screen and the sound is natural. You can view the movies' sample image with eight per page and click though the whole set page by page. Here they are arranged by date added but you can also have them set out alphabetically. Expect titles such as 'Ream his straight throat', 'Cum filed manholes', and 'Bareback Satyrs, fisting bonus.' Yes there are fisting scenes here, plenty of over-seized dildos and slings too. And there is a nice smattering of interracial action with hard black cocks in well battered white asses. A good mix of movies, all original and all on the harder than hardcore theme.

Each one gives you a small set of screen caps, not terribly impressive in size (720 x 480), number (10), or quality but a good rough guide as to what takes place in each scene.

And that's about it. It may not sound like much but you can be assured you are getting quality movies, the tour promises are fulfilled and there are very regular updates which will make an on-going membership worthwhile.

Bottom Line
It's hard and heavy man sex all he way with various fetishes explored in the exclusive and well made, good length scenes. Navigation is easy, the design is nice and simple and you can even apply to be a model - if you have what it takes, and if you can take what the Satyr men will expect to give you.
Safe Sex Notice:
This gallery contains images of unsafe sex practices, also known as barebacking. Engaging in sexual practices without the use of a condom is a risky and unnecessary behavior. There are a lot of studios including the one listed on this page that film bareback or have bareback scenes in their content libraries. The images presented below should only be used for fantasy and you should not deceive yourself into thinking that "everyone is doing it." Further, you should not assume that just because you see photos or film content of barebacking that sexually transmitted diseases have been miraculously cured. HIV and other sexually transmitted diseases are very real and potentially lethal. Please practice safe sex in your own life and educate yourself regarding the dangers of not wearing a condom before having sexual encounters. Visit AMFAR for more information about safer sex.
VISIT Satyr Films NOW!
VISIT Satyr Films NOW!