Look At Boys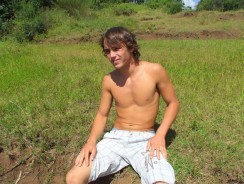 JUB Site Rating:
0 total vote





Look At Boys's Billing & Pricing
Look At Boys's primary billing processor: Paycom E.u
$14.95 for a three day trial
$34.95 for one month recurring
$59.95 for 90 days, one time charge
VISIT Look At Boys NOW!
Don't let the rate for this site put you off. It's only a '2' because it's new and there isn't that much content here so far. Give it a few more months and you will start to see it climb up the ranking, that's for sure.
What you have here is a twink site, or perhaps more accurately a teen site, that features various kinds of ethnic boys and puts them in well made videos and galleries. You may think there is nothing particularly original about that, and that's true, but with so many twink/teen sites out there competing for you money there are a couple of reasons why Look At Boys should be on your list of sites to try.
For a start the boys are young, smooth, varied in looks and ethnicity and very, very satisfying. They are cute in the classic meaning of the word; innocent, lithe and slim with angel faces. And then you have a site that is well designed with some nice interactive options and good information. You are told the update dates and these appear frequent so far. You have info about the shoots and the boys and this is well written, mostly, and easy to read. Members can vote for each guy and push him up the rankings and you can also comment on the lads and let other members know what you feel about them.
Look At Boys is also asking members to send in their favourite images and there were 52 of these when I called in. Like the models in the main videos and galleries these boys were young and lovely and the images were a good quality. In the main galleries, which number 14, you can expect to find around 100 images per set. These enlarged to a big size and, at 1,200 x 900 px you may have trouble fitting them in your screen. But they are clear, digital and well focused. Navigating the galleries is easy, again you can rate them and there are clear links to get you home again.
In the videos area you'll find seven episodes so far. These are mainly solo sessions allowing you to get close and intimate with each guy but there was one action scene when I visited. Actually this 28 minute long episode was a mix of two cuties fucking outdoors, some jerking and nice cum shots followed by a pose and trip session. A nice combination of scenes with decent enough camerawork and natural sound.
The videos were available to download in two qualities and the basic, lowest one played in WMV at 382kbps @ 416 x 234. The higher quality one will be much better, though a much bigger file, but even the low quality version was fine, though full screen may not do it any justice.
Look At Boys features an easy to use top menu and that neat design I mentioned. You can easily move around to the other areas of the site such as the members' pics and the models' database. So far there are only 14 youths appearing here but expect more with those regular updates. Clicking a lad will take you to his photos/videos and, like the other content, you can order the index alphabetically. That will be useful when more guys and content are added to the site.
So we are off to a good start here with fresh talent, good looking teens, a well designed site and good quality movies/galleries. Stand by for more of the same.
Bottom Line
Here is a new site on the block. It's fresh and exciting and clearly has an eye to quality. The videos, though small in number, are a decent length, well made and feature some great looking teens. The galleries are good quality and members are encouraged to be interactive.
VISIT Look At Boys NOW!
VISIT Look At Boys NOW!