Military Classified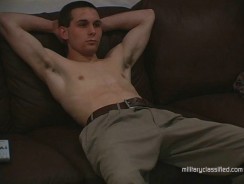 JUB Site Rating:
2 total vote





Military Classified's Billing & Pricing
Military Classified's primary billing processor: Ccbill
$15.95 for 2 days (non-recurring)
$26.95 for one month (recurring)
$36.95 for one month (non-recurring)
$59.95 for three months (rebills $16.95 after 90 days) (recurring)
VISIT Military Classified NOW!
I was just talking a tour of inspection at Military Classified and was quite impressed with the turn out. I wasn't inspecting for creases in trousers, unpolished lapel badges and all that, I was looking for the quality of the men and their weapons. Pleased to report sir, all in order in the shooting department, and all's well in the arse-anal.
And you are going to want to know if these guys area real. I mean real marines, sailors and military guys that is. You have to listen to the chat at the start of the scenes and make up your own mind but the ones I caught looked and sounded real enough to me. There is that standard str8 chat about pussy and girls with most of the guys giving you the added attraction of them being straight, and there are good 'starters' to the scenes, with this chat continuing as the guy slowly strips out of his uniform, plays with his manly cock inside his fatigues while he does so, and generally teases you. Looking at some of the underwear I'd say these guys were mainly straight - they have no idea!
But they know how to let themselves go, turn us on and deliver horny scenes. And there is nice variety too. Not only in the rank and profession but in the looks of the guys and the mix of solos, hardcore and 'assisted' jerk offs. You'll come across civilians in here too so not everyone is an army or navy recruit, but even these guys are still horny and hunky. Before you start to view a scene you get a description of how it went down and there are shots here too which, when clicked, link you to galleries. These galleries run in Flash and open in a separate viewer, so you can view them while you get the buffering on your streams set up. Images are not huge here but the viewer is nifty and fun to use.
As for technical things, you can download or stream in WMV and Real, usually each scene is in a couple of parts, and you can run a full Flash stream too - no problems with quality or accessing the movies. The filming is spot on with mid-range shooting for the start and the chats, then closer work for the hand jobs, the guys' first time oral or anal scene, and hand held work so that you can move around the guy being worked on, fucked, blown or jerked. There are some great cum shots in here too, with cute and hunky guys letting another man jerk them off; they look over to the (I assume) straight vid that's playing to one side and try to look hard and tough but when they're about to blow their baby-batter they look as ecstatic as anyone; and there are some great wads of jizz flying around - check out the boys' sexy smiles once they've downloaded, that's a really horny moment that happens in many of the movies. The scenes I downloaded came out at 640 x 480 @ 853kbps and were perfectly clear.
So, over 300 exclusive scenes so far, with some guys making repeat performances and each of them being as sexy as the one before. I can't tell you about the update schedule as I didn't see one, but there's plenty of good quality and on-theme content for you here already.
Bottom Line:
Military Classified is one of the better military themed porn sites out there because a) the guys are so hot, b) the quality is so good, c) these are real military guys and not faking it, and d) it is set at a reasonable monthly fee. Hard and horny all the way to the dazzling cum shots; get fell in!
VISIT Military Classified NOW!
VISIT Military Classified NOW!