Guys On Video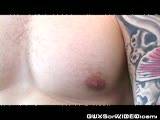 JUB Site Rating:
0 total vote





Updated: 2009-07-15
Primary Categories: Video Downloads
1 Galleries
Currently No Videos
Guys On Video's Billing & Pricing
Guys On Video's primary billing processor: Ccbill
30-Day Recurring $24.95
30-Day One Time $34.95
90-Day One Time $69.95
VISIT Guys On Video NOW!
Good news folks: we've found you a site that is purely about downloading gay hardcore sex videos. Ok, so there are loads of movie sites out there, pay per view theatres and so on, and probably many that have more content than
Guys On Video
has but this one has DRM free movies to download and keep. There's nothing flashy or dazzling about the site, it simply concentrates on the movies and on bringing you good quality, easy to access flicks which, though they may not all be exclusive, are worth viewing and collecting.
You won't find extras and bonuses, you won't find interactive elements like ratings and comments boxes, forums and so on and you won't find stories and galleries either. You simply have a set of movies, arranged in three categories, which are yours once you sign up. You could look upon Guys On Video as a membership library where you call in when you want to and view on line or download the episodes; or you could see it as a chance to sign up for the non-recurring fee and grab as much as you can before your time runs out. Either way you get great value for your money when you consider that there are 176 scenes here - with more being added regularly.
So what are those categories and are these movies for you? Well, you have 56 solo scenes with all kinds of guys jerking off. These guys are each different and sexy in their own way. You'll find Latino guys, youths, older men, amateur looking chaps and studs. The variety of hunks continues in the 48 couples and orgy movies and the 72 bareback ones. All kinds of situations are depicted, though the majority take place inside a house, the bedroom, living room etc. with some taking place down at the gym.
I was impressed with the viewing choices available to me at
Guys On Video
, there's something here for everyone: Streaming and downloading was possible in WMV, Real Player and Quicktime at speeds of 1000k, 512k, 256k and 56k for dial-up. (The Quicktime wasn't available to stream which is possibly a good thing as you have to wait for the file to load live before it runs and, with some big files, you could be sitting there for ages with nothing to feast your eyes on.) I guess the bottom line on viewing the movies is that you have a wealth of choices, plus the default Flash version, which will serve you well as long as you are on a broadband connection.
Just as the tour says, 'real guys, real sex, no BS' everything is simple once you are a member. Whereas most sites will bring you a gallery of the action from the movies, even if it's only a screencap one, Guys On Video doesn't. You will find shots from the scene but these are there as a guide so you can see what happens, rather than as things to collect. You can view the thumbnails but you can't enlarge them. Again we get the message that this is about lights, camera, action! And not about 'hold that pose' and click. So, if you are an avid collector of images then you won't like it here but
if you are a collector of good quality movies then you'll love Guys on Video.
Bottom Line:
Yes it's basic, there is nothing to do here at
Guys on Video
except view and download movies but that's exactly what you are being promised on the tour. Don't expect to get interactive, don't expect galleries and don't expect update news - though we assume and hope that new content is added regularly. Just expect gay hardcore sex, erotic lovemaking and well made gay guy videos that are yours to keep and you'll come away a happy bunny.
VISIT Guys On Video NOW!
VISIT Guys On Video NOW!