Fierce Dog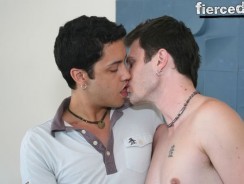 JUB Site Rating:
0 total vote





Fierce Dog's Billing & Pricing
Fierce Dog's primary billing processor: Ccbill
Fierce Dog's optional billing processor(s): Paycom, Paycom E.u
$19.95 for 30 days recurrs at $19.95
After 3 months drops to $17.95 until canceled.
After 6 months $15.95 until canceled.
$49.95 for 90 days. One time charge.
VISIT Fierce Dog NOW!
Standard prices, good looking tour, there's a blog going back over two years, a model index of sexy looking jocks-cum-frat boys and updates appear to be daily. I'm not sure what the site is actually about as there's not intro text but the tour is otherwise impressive.
Enter your username and password and you will think you haven't. Nothing changes on the page as you effortlessly sign in but now you can click the first video, that's been sitting in the centre of your screen, and it will run. Or you can choose from the eight listed at the bottom. You are politely asked to wait while the site determines your optimum viewing speed and then the movie starts in a Flash 9 player. The picture size is reasonable and the videoing style and quality is good. A short intro sets the scene up and then the good looking guy starts his solo session which lasts for around 15 minutes, giving you plenty of time to play along at home, (or in the office if you are daring enough.)
Test out the download (WMV) option by clicking the link in the Flash player console where you can also go full screen, adjust the volume or click the little Fierce Dog icon for some other options. The technical wizardry of this site has been well planned and executed, it's a nifty, smooth running site that uses some up to date gizmos to enhance your viewing experience.
Checking the model index of 18 guys it becomes clear that there are more sexy bodies on the site than appear in the limited number of videos. Oh hello! Here's Pierre Fitch, I haven't had my Pierre fix for a while so... A click brings you to a page with a featured video, (Vancouver Nights; Brent Everett and Jeremy Hall also star.) But this is only a description and a trailer for the movie and a link to the store where you can buy it. Going back to the model index again I notice that this is how it works. There are some solo jerk off scenes to view on line or download and the other guys in the index are there to advertise up-sell DVDs.
So let's go back to the homepage and see what else we get for our membership, other than the eight movies. I should point out that the first of the eight was uploaded on September 2nd 08 and there has been one a day since. If this rate continues you will have a new scene every day and your membership will be worthwhile.
There are galleries with these eight videos and you have both screen shots and high resolution photos. You are also able to run a slideshow or download the entire set in a zip file.
Which just leaves the blog. Here I found the explanation that the site is new, only a week old at the time of writing this - hence the small amount of videos. But the good news about this is that the promise of daily updates has been kept 100% so far. Trawling back through the blog you'll find news about Fierce Dog, its awards and nominations, the featured movies and, if you click around, you will also see decent images from the videos and galleries from time to time.
Bottom Line:
The site is very new but is, so far, holding up to its promise of a new video/gallery every day. The quality of what you see is good and the whole thing runs like a well oiled machine, technically clever and easy on the eye. The guys are above average in the looks department and before long this site is going to be the place to be.
VISIT Fierce Dog NOW!
VISIT Fierce Dog NOW!